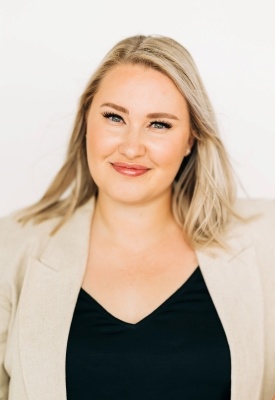 There's no stopping Chloe Warner-Moyer Derich, Chapman, from reaching her goals—and she has many. "Once you know what you want, you go for it!" At the young age of 29, she has wisdom and accomplishments many would say are beyond her years: a thriving career in the financial and insurance industry with New York Life, a home with her husband of three years and a volunteer position as the alumna advisor at her alma mater. Guided by her desire to empower other women, give back to Tri Delta and plan for her and her family's future, Chloe has already become a member of Tri Delta's Heritage Society by including Tri Delta's Foundation in her estate plan.
How has Tri Delta impacted your life?
Chloe knew she wanted to be in a sorority, but her knowledge of them was limited to characters on TV and in the movies, like Elle Woods from "Legally Blonde." Going through recruitment at Chapman University, she fell in love with Greek life and Tri Delta, specifically. What she also didn't know is that Tri Delta would provide her with a bigger and broader applied education than her actual classes. These experiences have directly translated to her everyday life, jobs and relationships: "College is the place to learn, grow and fall in a safe space. Tri Delta gave me the platform to learn and develop confidence that translates into every other aspect of my life—and it was a blast. Tri Delta gave me more than I could have ever expected in terms of education and real-life experience and I want to ensure every woman who wants it should have the opportunity to be part of Greek life."
Why is planned giving important to you?
"Knowing for a long time how important Tri Delta is to me, I knew I wanted to give back with my time but, ultimately, wanted to give back in a monetary way as well. I am excited knowing my contributions will help countless women in need." By working in the insurance industry, Chloe realized she could write an insurance policy on herself, naming Tri Delta as the beneficiary. The affordable monthly payment into the policy is pennies on the dollar of what she could earn and save but will end up accumulating to over six figures to Tri Delta's Foundation. "I plan to increase the amount, but know it is important to me to work towards that goal. Planning ensures the money is there no matter what happens."
What words of advice do you have for other young alumnae?
Chloe believes the biggest ask for younger members and recent grads is to make time for Tri Delta. "It doesn't have to be a lot! It can be a couple of hours a quarter. Stay connected, so when it is the right time and you need Tri Delta in your life, you have the connection." In terms of giving back and supporting Tri Delta's Foundation, she encourages other young alumnae to start planning early. "Even if you don't feel like it is something you are able to do now, ask the questions and have the conversations so you'll know what it will take."
How do you hope to have an impact through giving to Tri Delta's Foundation?
"Tri Delta sisterhood, giving back and helping others is at the heart of who we are. Through my experience as a Tri Delta and now my career, I want to marry these things: show women how to take control of their finances, grow their independence and help Tri Delta at the same time. A small pledge can have massive impact if done early and set up in the right way. It is my lifelong pledge to work on giving a huge gift to Tri Delta. I hope my contribution will inspire others to be on the lookout for ways to give to the next generation of Tri Delta as well."
*This article is not intended to provide financial advice. Individuals looking to pursue planned giving should seek the advice of their financial and estate professionals.
Tri Delta's Heritage Society
Join us in recognizing and celebrating the more than 250 members of our prestigious Heritage Society. These generous sisters have remembered Tri Delta in their wills and estate plans, sustaining our sisterhood for generations to come. Click here for the complete list of Heritage Society members as of Aug. 31, 2022.
Create Your Own Legacy With FreeWill and Tri Delta
Tri Delta has partnered with FreeWill to offer an exclusive benefit to our members: an online estate-planning tool that allows you to create a legal will, for free. Estate planning is often overlooked by women, and this resource is part of our commitment to enabling a lifelong journey of growth and development for our sisters. Define your own personal and financial future at FreeWill.com/tridelta.
While planning for those you love, you'll also have the option to join Tri Delta's Heritage Society: a group of thoughtful members who have included Tri Delta in their plans. These gifts to Tri Delta's Foundation will make a difference beyond your lifetime to provide transformational programs, scholarships and emergency financial support to empower our sisters—helping keep Tri Delta strong into the future.  
We invite you to leave your legacy in Tri Delta and take just 20 minutes to create your free, legally binding will today. Visit FreeWill.com/tridelta.