Each month, Tri Delta publishes In Memoriam, highlighting the lives of some of our Distinguished Deltas and longtime volunteers and sharing a full list of sisters who have recently passed away. Below is the In Memoriam for June 2021.
Celebrating the Life of Emily Bourne Grigsby
Tri Delta alumna Emily Bourne Grigsby, Vanderbilt, was known as a Renaissance woman who lived a remarkable life in her 98 years. After obtaining undergraduate degrees from Vanderbilt University and Mills College, she received her master's degree from Georgia Tech and a Juris Doctor from Woodrow Wilson College of Law.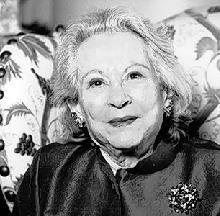 She went on to arbitrate for the New York Stock Exchange, was Fulton County Superior Court Mediator, and mediated for Justice Center of Atlanta. In addition to law, Emily also studied interior design at Tuxedo School in Atlanta while simultaneously taking formal oil painting lessons. She hosted more than 30 single artist art shows and her works have been acquired all over the Southeast.
Additionally, Emily learned to fly, earning her pilot's license and becoming a member of the Ninety-Nines, which was founded by another Tri Delta sister and aviation pioneer Louise Thaden, Arkansas.  
Emily sang soprano for the San Francisco Opera for 3 years while her husband served in the navy in the Pacific, learned to belly dance and, after moving to Atlanta, modeled for Rich's Department store for 12 years. Emily had a taste for travel and incorporated destinations around the world into her interests. She thrived on social visits, phone calls and shared meals from family and friends. She was a supporter of the arts, passionate investor in her interests and crusader for all women.
Understanding the importance of investing in future generations of women, Emily was also a member of Tri Delta's Heritage Society. By remembering Tri Delta's Foundation in her will, she truly exemplified sisters helping sisters.
If you would like to learn more about leaving a legacy through planned giving, visit tridelta.org/foundation or email foundation@trideltaeo.org.   
This In Memoriam list includes sisters who were reported as deceased to Executive Office June 1-30, 2021. If you know of a sister who has passed away, please report her information to Executive Office by emailing memberrecords@trideltaeo.org.
ALABAMA
Inge, Mary Eatman '44 d. 6/2021
Pierce, Sherry Hammack '61 d. 1/2021
ARIZONA STATE
Bailey, Carolyn '77 d. 11/2016
ARKANSAS
Ticich, Jane Nelson '66 d. 6/2021
BELOIT
Browning, Elizabeth Avery '35 d. 9/2015
Myres, Virginia Kaiser '48 d. 6/2021
BOSTON
Kelly, Carol Ann McCarthy '56 d. 8/2020
BRENAU
Chapman, Elizabeth Harlow '75 d. 12/2019
Jennings, Joy '73 d. 3/2015
BUTLER
Moorman, Ginny Jones '48 d. 5/2021
Wills, Eleanor Morris '40 d. 4/2021
CAL STATE-NORTHRIDGE
Bartlett, Christine Cullen '71 d. 5/2021
Kleine, Florence Brammer '67 d. 2/2021
CARNEGIE MELLON
Bricker, Betty Robb '44 d. 1/2021
Niethamer, Jean Guenther '48 d. 3/2015
COLORADO
Duffy, Caitlin '10 d. 2/2013
Nock, Kaye Horton '52 d. 10/2019
COLORADO STATE
Buechner, Anne Sevier '41 d. 10/2018
Smith, Virginia Haley '57 d. 5/2021
CORNELL
McKinney, Linda Johnson '51 d. 3/2020
DENISON
Brooks, Constance Hutchings '49 d. 10/2020
DEPAUW
Pelton, Patty Rader '58 d. 1/2021
FLORIDA
Stecks, Jane Percefull '60 d. 5/2021
GEORGIA
Campbell, Anne McCullough '68 d. 5/2021
Hinds, Donna Sanders '70 d. 5/2021
Jones, Nancy Cramer '51 d. 12/2020
Penegar, Lucy Rawlings '59 d. 1/2019
Whitehurst, Anita Hodges '47 d. 1/2014
IDAHO
Park, Billie Hanchey '54 d. 3/2017
Wilkins, Sherry '58 d. 6/2021
INDIANA
True, Geraldine Maddox '49 d. 2/2021
IOWA
Dinzole, Lois Longley '49 d. 4/2019
KANSAS STATE
Watson, Stacy Levi '93 d. 1/2021
KENTUCKY
Whittenberg, Jo Hoover '51 d. 2/2015
KNOX
Ackerman, Alene Lesniak '82 d. 11/2020
LOUISIANA STATE
Huber, Betty Landry '55 d. 7/2010
Smithwick, Marie Flowers '52 d. 2/2019
MARYLAND
Beebe, Betty Lohr '53 d. 4/2020
MICHIGAN STATE
Gates, Susan Morrice '59 d. 6/2021
MILLIKIN
McMinn, Meredith Griffin '58 d. 2/2020
MISSISSIPPI
Mounger, Patsy Graham '54 d. 6/2020
Stamm, Laurin Fields '54 d. 6/2016
VanCleve, Peggy Dandridge '54 d. 8/2020
MISSOURI
Caldwell, Shirley Welch '56 d. 6/2021
MONTANA
Gray, Candice Charlson '65 d. 5/2018
MOUNT UNION
Holler, Barbara James '43 d. 4/2012
NEVADA
Chimits, Carolyn Pickens '47 d. 4/2021
Desgranges, Marilyn Jensen '56 d. 1/2017
NORTH CAROLINA
Chapman, Bobbie Moretz '55 d. 3/2020
Perry, Marian Castellow '44 d. 6/2020
NORTH DAKOTA
Hellekson, Gary Lum '60 d. 3/2011
Merry, Mary McGuckin '49 d. 8/2020
Speth, Deborah Hajicek '71 d. 1/2021
NORTHWESTERN
Thomas, Margaret Svensson '55 d. 1/2019
OHIO STATE
Link, Nancy Hane '48 d. 11/2018
OKLAHOMA
Thomas, Peggy Solt '45 d. 5/2021
OKLAHOMA STATE
Taylor, Linda Maule '63 d. 2/2020
PENNSYLVANIA
Berger, Martha Viele '43 d. 2/2016
Castillo, Jeanne Thomson '49 d. 4/2020
PENNSYLVANIA STATE
Koschik, Janet Rieger '50 d. 1/2021
Smith, Eleanor Judy '56 d. 2/2021
RANDOLPH-MACON
Tucker, Rose Wallace '48 d. 2/2018
RHODES
Davis, Nancy Smith '42 d. 7/2019
SIMPSON
Easter, Meredith Young '56 d. 5/2020
SOUTHEAST MISSOURI STATE
Bruns, Mary Carriere '62 d. 10/2020
SOUTHERN METHODIST
Fults, Virginia McIver '47 d. 5/2021
Stutts, Marilyn Martin '48 d. 5/2021
STETSON
Hale, Mary Auvil '37 d. 2/2019
Nelson, Betty Bailey '48 d. 8/2010
SYRACUSE
Zell, Joan Nies '50 d. 2/2014
TEXAS
Bowen, Nancy '54 d. 11/2017
Putnam, Dorothy Wallace '46 d. 1/2010
TEXAS CHRISTIAN
Nippert, Karen Rice '57 d. 12/2017
TEXAS TECH
Swope, Marjorie Street '58 d. 12/2017
TOLEDO
Mens, Gladys Meyer '44 d. 1/2020
TRANSYLVANIA
Seifert, Margaret Francis '63 d. 4/2020
UTAH
Warren, Jean Ellison '43 d. 9/2020
UTAH STATE
McDonald, Iris Brinkerhoff '59 d. 10/2020
VERMONT
McDonough, Cheryl '69 d. 6/2021
Newell, Ruth '40 d. 11/2016
WASHINGTON
McConnaughey, Sheila Carlson '51 d. 4/2013
WASHINGTON STATE
Jesseph, Marley Austin '44 d. 6/2021
WASHINGTON-ST. LOUIS
Sanders, Shirley Petersen '49 d. 5/2021
WICHITA STATE
Curtis, Robin '80 d. 1/2021
Klyce, Genevieve Sidwell '58 d. 6/2011
WILLIAM & MARY
Kennedy, Margaret Wrenn '40 d. 8/2020
WISCONSIN
Cook, Rhonda Phelps '75 d. 8/2019
WYOMING
Faust, Bette Ruth Mau '40 d. 12/2019