Whether serving as the charter president of Tri Delta's Phi Omega Chapter in 1965 or as president of the U.S.-Ukraine Foundation (USUF), Nadia Komarnyckyj McConnell, Arizona State, has always been guided by a deep-seeded love of her homeland and the brave example set by her parents.
Co-founded in 1991 with her husband Robert McConnell, the non-profit USUF started with the commitment of one American-Ukrainian family, created to support the development of democracy, a free-market economy, human rights and the strategic partnership between the U.S. and Ukraine. In the 30 years of the USUF's existence, there has never been a more critical and heart-wrenching time than right now.
Passion Rooted in Family 
Nadia's parents, Irene and Omelan Komarnyckyj, were two of the thousands of refugees who fled Soviet-ruled Ukraine during World War II. The Komarnyckyjs had every intention of returning to their beloved country at some point. They originally landed in Austria, living with a family on a farm in the mountains along the Danube. Nadia was born as they fled from the Red Army pursuing the Nazis—gathering up anyone who lived in the Soviet Union to send them back. They stayed ahead of the Soviet troops, eventually living as displaced persons in Igls while they awaited the opportunity to immigrate to America.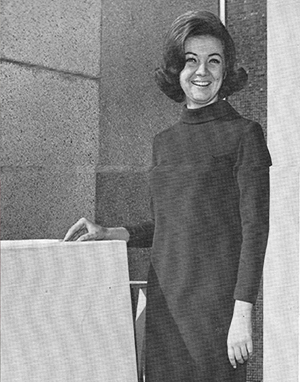 They eventually joined relatives in Chicago, instilling in Nadia a love of all things Ukrainian as well as a commitment to be a full citizen of the United States. They kept their strong Ukrainian culture while welcoming American culture—proud to become Americans while proud of their Ukrainian heritage.
To address her father's health needs, Nadia and her family moved to Arizona after she finished high school. She enrolled at Arizona State University where there were virtually no students of Eastern European ethnic backgrounds in the mid '60s. Rather than shy away from the misunderstanding and bias of others, Nadia took on the challenge of educating others on the important political and cultural distinctions between Ukraine and Ukrainians and other Eastern European peoples.
Impressive Accomplishments 
Nadia began her involvement in the American political system as a volunteer in the 1960 Presidential campaign and continued to do so in every election cycle until the founding of the USUF. Nadia served as Director of Congressional Relations at the Federal Emergency Management Administration (FEMA) and then as Deputy Assistant Administrator of NASA for Congressional Affairs in the Reagan Administration. Starting in 1991, Nadia shifted her focus to working for the development of democratic institutions in Ukraine and U.S.-Ukraine relations.
USUF Operations Today 
Today, Nadia administers the Foundation and has, over the years, designed and managed approximately $60 million in programs for democracy development across all of Ukraine. Since the beginning of Russia's 2022 invasion of Ukraine, Nadia has created a "Coalition for Humanitarian Assistance" which to date includes the American Hospital Association, March of Dimes, Am Well and United Help Ukraine. She has also established "Operation Ukraine Airlift" in concert with partners Afya Foundation and Meets Express Corporation. They completed their first humanitarian aid airlift just six days after the Russian invasion began.
If you'd like to learn more about the U.S.-Ukraine Foundation or to show support to the work of this brave Tri Delta, please visit the USUF website.