Tri Delta's Collegiate Leadership Conference (CLC) 2021 will once again feature Delta Demos! This is the opportunity for collegiate chapters to showcase their chapter programming ideas, big or small, virtually. Enhancing the Tri Delta member experience is a goal for all of us, and these best practices, new strategies and fun sisterhood ideas will equip other sisters with the tools and resources to make a difference in their chapter.
Sharing Virtually
CLC 2021 will include this special Delta Demos experience as a virtual event on Saturday, Mar. 6, providing all our chapters the opportunity to share their ideas for programming, operations, recruitment, public relations and marketing, and more. Attendees will enter virtual rooms, each hosted by a collegiate chapter, to interact and learn from their Tri Delta sisters.
"Delta Demos allowed the Theta Delta Chapter to not only practice educating others on extremely important information regarding diversity and inclusion, but also to connect with Tri Deltas across the nation. Participating was absolutely a highlight of our entire CLC experience, and we are already so excited for what new ideas and initiatives will be shown in 2021!" 

Caroline Doyle, Oregon
Bring You … and Your Ideas
All our collegiate chapters are invited and encouraged submit an interest form for Delta Demos. Tri Delta is looking for chapters who have: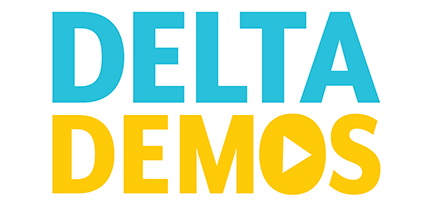 Demonstrated a commitment to chapter and/or member growth and development
Embraced new approaches to chapter initiatives
Reworked an aspect of chapter life
Addressed societal issues
Positively impacted the lives of members
Influenced non-members in a meaningful way
Creatively addressed a challenge
Modified the "basics" into something meaningful
Honored our Founders' vision of being "kind alike to all"
Does your chapter have a recruitment video they are proud of? We want to see it. Do you use OmegaOne in an innovative way? We want you to teach other sisters about it. Does your chapter host a stand-out program for your members? We want you to tell us about it.
Count Us In!
We encourage you to spend a little time brainstorming with outgoing officers and other interested members about your ideas and your successes. Planning on what to submit, completing the Interest Form and hosting your chapter's virtual Delta Demos room doesn't have to be limited to your current officer team! This year, because all members are invited to CLC, we hope to see more of you join in the Delta Demos process.
"Delta Demos was an amazing opportunity to get new ideas for our chapters from so many sisters!"

Claire Paciga, Butler
Submissions are due by Jan. 31, 2021.
Questions?
Get our Delta Demos FAQs or email us at  programming@trideltaeo.org.