For your reading pleasure! May we suggest the array of books written by Tri Delta authors. From children's books to nonfiction, these stories highlight the talents, unique experiences and perspectives that reflect our sisterhood.   
Pearl
By EJ Manchester Murphy, Jacksonville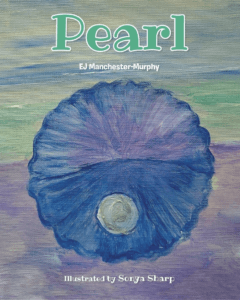 We don't always start out as the most precious gem on Earth. Time, experience, growth, education and resilience make us evolve. Even the most insignificant speck of sand can turn into the most precious and globally adored jewel. "Pearl" is a reminder of what you are at the center of your sandy core.
"Pearl" is Elizabeth Manchester Murphy's true story and second book. Her first book "I'd Rather Be a Mermaid" is a heartwarming children's book; she has a third book coming out this fall and is currently in the process of writing a fourth book highlighting her personal journey as a survivor of domestic violence. Elizabeth knows many other women, including sisters, who endured domestic violence and navigating the criminal justice system. She volunteers as a service provider for Autism of the Seas and is an educational advocate for children with special needs. Elizabeth is a clinical mental health therapist, and Tri Delta was part of her journey. Initiated at Jacksonville University and graduated from the University of Maine, she says she is so fortunate to have sisters from the North and South and everywhere in between.
Loving this Life!
By Alice Tyszka, Furman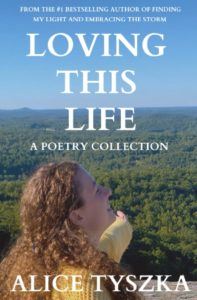 "Loving this Life" celebrates the connectedness, messiness and beauty existent within the human experience as it follows the meaningful journey of searching, feeling, growing and learning. This collection of poems and testimony captures what it feels like to live through simple and profound moments of self-realization, discovery, growth and change with love and faith at one's core. Alice Tyszka invites readers to see how special it truly is to have been chosen for battles to overcome, victories to celebrate, times to cherish and life. Dedicated to people who live their lives to the fullest and the ones who make our lives so incredible, "Loving this Life" calls everyone to pass love on for God, one another, ourselves and everything around us.
It's not every day we have the opportunity to talk about an author who is still a collegian! Alice is the No. 1 ranked, bestselling author of the poetry collections "Finding My Light," "Embracing the Storm," and "Loving this Life". Her work has been featured in various literary magazines, book blogs and anthologies. Alice is also the founder of Alice's Authoring Company and works with aspiring authors as a publishing consultant and writing coach. Putting her faith, kindness and positivity first, Alice makes it her mission to uplift everyone around her and fill empty pages with messages of goodness and light. When Alice is not writing stories or poetry, she can be found with her nose in a book, spending time with family and friends, exploring the outdoors or going on spectacular adventures—she finds them everywhere. In addition to her commitment to writing, Alice is a junior English major and visual strategy minor at Furman University and a member of Gamma Xi's member class of 2023.
A Solar System Chat
By Diana Ikenberry Kline, Ohio State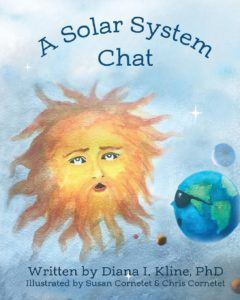 Our planet, Earth, is worried. She has some problems to solve. She turns to her fellow planets and the Sun for advice. Read what they say and what Earth decides to do. What can we do to help her?
Diana Ikenberry Kline has taught in higher education for more than 30 years. She has enjoyed teaching a variety of subjects, including computer science, psychology, math and education. While teaching computer science courses, she always reminded her students to recycle old computer equipment; otherwise, those items could remain on this Earth much too long! She holds B.S., M.S. and Ph.D. degrees, and in her free time she enjoys many athletic endeavors with her husband, two sons, and friends, including tennis, golf, and swimming.
Walks and Wags with Nanny B.
By Barbara Livesay, Illinois State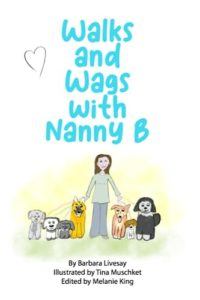 Who loves dogs? Are you looking for a good beginner book with adorable illustrations to get your little one to start their love of books and practice reading? Come learn how a dog "Nanny" enjoys walking different breeds of dogs who are sweet, kind and silly. Open this sweet book and fall in love with Nanny B's dog friends. This book is for all ages to enjoy a story of how dogs teach us sweet and simple life lessons.
When Barbara Livesay was faced with surgeries and confronting Stage 3C ovarian cancer, she opted out of chemotherapy and embraced a new way of living. With routine checkups and engagement with the National Ovarian Cancer Coalition, she found strength. In 2020, a recurrence led to surgeries amid a pandemic. She continued to prioritize quality of life over mere quantity, creating Walks & Wags, a dog walking business in Cary, North Carolina. Accepting her second recurrence in 2022, she chose positivity. A casual remark about writing a book evolved into the creation of "Walks and Wags with Nanny B." Guided by webinars and established authors, she completed the book in June 2023 and embarked on the journey of self-publishing. This tale showcases the potential of finding inspiration in unexpected places, encouraging her to embrace lifelong learning and have faith in herself.
SpiderLady Stories: The Missing Car Keys
By Abby Bennett, Texas A&M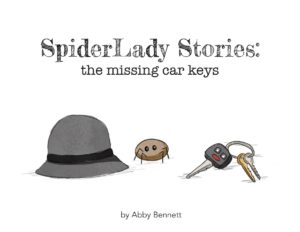 SpiderLady is a forgetful old lady who is constantly losing things. She loses things that she uses every day, and one time she even lost her house! SpiderLady has a pet spider, named Jim, who is her best friend. Jim always helps SpiderLady find the things that have been lost. Join Spider Lady and Jim on their adventures of finding whatever she has lost that day for a silly and fun adventure!
Abby Bennett is an artistic young woman who loves to create things. SpiderLady Stories were invented by Betsy Hendrick, Abby's late grandmother. Abby got the idea to help her grandmother's legacy live on by doing what she encouraged her grandmother to do years ago: write down the stories. Abby has written and illustrated this book in honor of her grandmother—all while still a collegian at A&M!
All Night, All Day: Life, Death, & Angels
Susan Johnson Cushman, Mississippi, Editor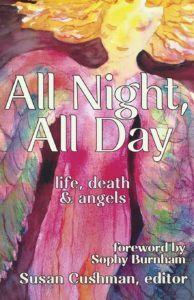 Susan Johnson Cushman was president of her new member class (1969-1970) at the University of Mississippi. A native of Jackson, Mississippi, she has nine published books, including her novel "John and Mary Margaret," which is set partly on the Ole Miss campus in the 1960s and contains scenes in the Tri Delta house. Her current anthology, "All Night, All Day: Life, Death, & Angels," is her fourth anthology to edit. Susan lives in Memphis with her husband of 53 years. Susan has not yet seen angels in person, but she has a growing relationship with her guardian angel, who has been with her in at least two near-death experiences.
All Night, All Day is an inspirational collection of personal essays, stories and poems by 28 outstanding women authors who write about the appearance of the divine in their lives. There is something mystical about holding the hand of a person who is "crossing over." It can be heart-breaking, of course, but also very holy and beautiful. Some of the pieces in this collection share the experience of personal loss when a loved one dies, while others show us the way the mystical world interacts with us in daily life.
True Tales of TWA Flight Attendants
Stephanie Alke Johnson, Cincinnati, and Kathy Kompare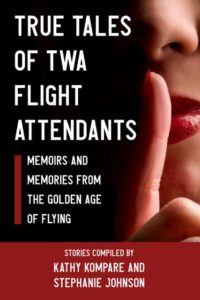 TWA flight attendants could cook chateaubriand medium rare, deliver a baby at 35,000 feet and survive a plane crash—all the while immaculately dressed from their never-a-strand-out-of-place hairstyles, all the way down to their mandatory high heeled shoes. But the glamorous lifestyle of a TWA flight attendant sometimes came at a cost.
In this, Stephanie Alke Johnson's first book, you'll read hundreds of stories from hundreds of former TWA flight attendants. It covers the good, the bad, the ugly and the sad, and some of these stories will leave you shaking your head in disbelief.
Stephanie flew for TWA for 23 years during the golden age of flying. She explored the world as a local, uncovering all the secrets of great shopping, wonderful places to dine, the sites to see and those fascinating little corners of the Earth. From London and Rome to Munich, Madrid and points east and west, she knew them better than the cities she lived in.