Tri Delta brought their passion for advocacy to Washington, D.C. as members and alumnae lobbied on behalf of legislation critical to the well-being of the Greek community.  
Tri Delta joined the Fraternal Government Relations Coalition (FGRC) once again to provide the opportunity for collegiate and alumnae members to directly engage in the federal legislative process. These exceptional leaders traveled to Washington, D.C., on April 19, 2023, to lobby on Capitol Hill on behalf of legislation that is important to the continued success of sororities and fraternities.  
During the lobbying visits, participants advocated to protect the fraternity and sorority experience. This year, the FGRC's priorities included preserving freedom of association rights for college students, eradicating hazing on college campuses and improving student housing for all students. 
"Partnering with Tri Delta alumnae was inspiring and discussing the Stop Campus Hazing Act with Congressional offices re-energized my passion for political work. Representing Tri Delta was an honor!" —Anna Reese Couhig, Mississippi 
The 2023 Capitol Hill Visit Delegation included three alumnae: Executive Board members Elizabeth Howard DiMartino, Boston; Leah Clelland Jochim, Ottawa; Susan Woda, Maryland; and three collegians: Anna Reese Couhig, Mississippi; Lilly Wood, Iowa; and Audrey Burgoon, Kansas State. This unique opportunity was funded by the Fraternity and Tri Delta's Foundation. 
"Meeting Tri Delta board members was wonderful, and the FGRC/Tri Delta workshops were extremely beneficial. The experience demonstrated how lifelong membership in Tri Delta can look." —Audrey Burgoon, Kansas State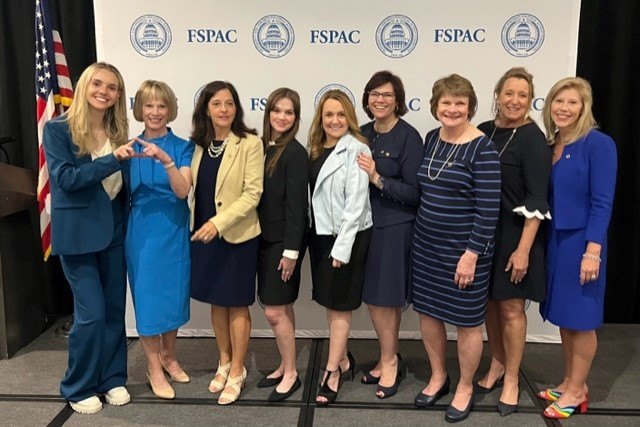 Tri Delta values being able to provide this opportunity for members to grow and experience advocacy while also knowing our representatives are working to preserve and protect students' rights as well as the sorority experience and advocate for positive change on college campuses. 
"Partnering with other Greek-letter organizations to advocate for legislation was a phenomenal experience that inspired collective power. Capitol Hill visits empower Tri Delta members to become change-makers." —Elizabeth Howard DiMartino, Boston
Opportunities for 2024 
The FGRC is a collaborative effort that includes the National Panhellenic Conference (NPC), which is comprised of 26 women's-only sorority organizations and the North-American Interfraternity Conference (NIC), made up of 56 men's-only fraternity organizations. In total, the FGRC represents organizations with more than 600,000 undergraduate members at 9,300 chapters on nearly 700 campuses.  
The FGRC is looking for student leaders interested in political action. Student body, Panhellenic and collegiate chapter presidents, as well as students who have previous experience in the political sphere or want to gain experience in the political sphere are encouraged to apply. Alumnae mentor/volunteer opportunities are available too! 
Keep your eyes open in November 2023 as we announce the application process and all the details for fall 2024!