This fall, Tri Delta's Epsilon Psi Chapter at Sacred Heart University in Fairfield, Connecticut, made history as the first founding class to be recruited and to establish their chapter virtually!
Despite the unconventional fall semester, Tri Delta welcomed the newest chapter to our sisterhood with the virtual Initiation and Installation of Epsilon Psi on Saturday, Oct. 24. With the Initiation of over 150 women, it was our largest group of sisters initiated virtually so far!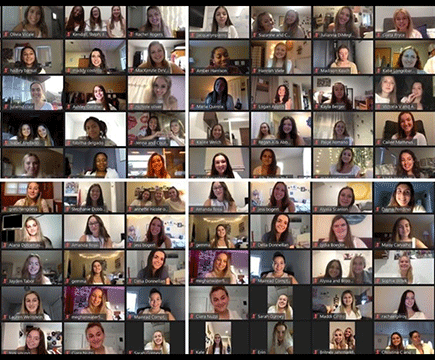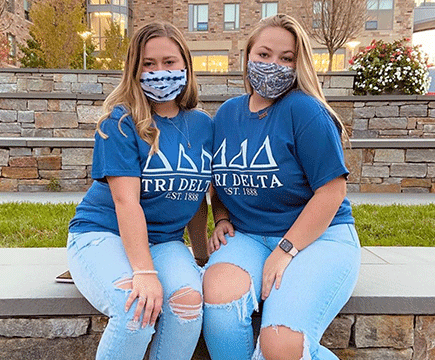 Following Initiation, the virtual Installation ceremony was broadcast live on the Sacred Heart Facebook page for family and friends to watch and leave messages of congratulations and Delta Love.
The ceremony included well wishes shared by sisters from Tri Delta's other emerging chapters, staff from the Office of Fraternity and Sorority Life at Sacred Heart University, and Chapter Development Consultants Katelyn Wobken, Kathryn Fagan, Meredith Davies and Laney Humphreys, who all played a role in helping establish the chapter.
The historic moment of establishing a new chapter during unprecedented times wasn't lost on the members of Epsilon Psi or the Chapter Development Consultant team.
"We are so excited to be a part of this historic moment in your chapter's history," said Kathryn. "Not only are you establishing a chapter which is historic in itself, but you have managed to create an everlasting sisterhood amidst a time when connection are more important than ever."
Meredith followed, "We asked you all to say yes to Tri Delta as life looks nothing like it usually does. The college experience you expected was nowhere to be found, but you embraced that. Not only were you willing to make the best of this, you decided to make history as a founding member of the Epsilon Psi Chapter of Tri Delta. You said yes to Tri Delta for strong friendships and growth as the world around you seemed to halt. We have seen genuine kindness and bravery in each and every one of you."
Executive Board Director Lenora Oeters, Cincinnati, host of the Installation ceremony, offered the following words to Epsilon Psi's founding members: "Today we celebrate YOU—individually and collectively—as the founding members of Epsilon Psi," she said. "You are courageous women and leaders, much like Tri Delta's Founders. And like our Founders, it is incumbent upon you to uphold the ideals of Tri Delta and to fulfill her Purpose."
Fraternity President Megan Shaw James, Millsaps, was also on hand to welcome our new sisters and officially confer the chapter's charter. "Congratulations on a job well done, and best wishes to all of our Epsilon Psi sisters on a bright future," she said.
We have the highest hopes for these stellar sisters and look forward to everything they will contribute to Tri Delta. Congratulations, Epsilon Psi!