Join us on a heartwarming journey as we explore the incredible stories of Tri Delta sisters who have captured the essence of our sisterhood in photographs and cherished memories. From heartwarming reunions to globe-trotting adventures and moments of unwavering support in times of need, these snapshots of love, friendship and shared experiences showcase the enduring power of our sisterhood.
My Big Sister's Daughter Is My Daughter's Big Sister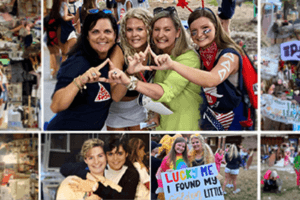 Can you keep that straight? Krista McDonald DeLong, Charleston, became best friends with her big sister, Kathryn Hebert Tompkins, Charleston. Fast forward exactly 30 years later, Krista's daughter Lucy DeLong, Clemson, and Kathryn's daughter Crosby Tompkins, Clemson, were matched as big and little!  
Submitted by Krista DeLong, Charleston
Get Your Kicks on Route 66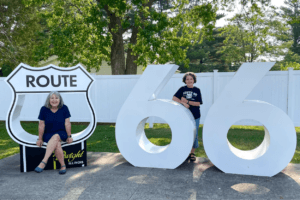 In commemoration of their 66th birthdays, Linda Wise McNay, Transylvania, and her best friend decided to embark on a momentous drive of Route 66. They took a one-way flight to Los Angeles, rented a car and drove east to Chicago. Their journey covered an impressive 3,028 miles through 8 states, with an additional 35-mile detour in Nevada due to a rockslide.
Submitted by Linda Wise McNay, Transylvania 
A Heartfelt Tribute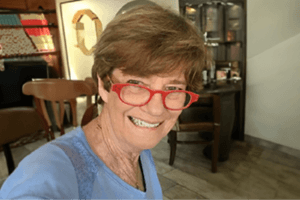 On June 8, 2023, a group of Stetson Alpha Delta sisters honored their sister Joyce Hewitt Carefoot, Stetson, with a generous donation to the Lewy Body Dementia Association. The gift commemorated one year since Joyce lost her battle fighting this disease.
Submitted by Janice Bonial Szumowski, Stetson 
A Blessed Visit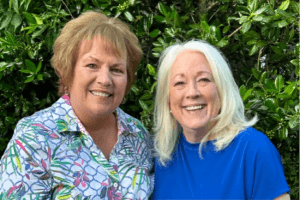 Cheers to treasured moments as Bluffton Alumnae Chapter's Founding President Barb Froman Houston, Illinois State, and charter member Pam Dorner-Saxhaug, Illinois State, came together again to celebrate their sisterhood.  
Submitted by Pam Dorner–Saxhaug, Illinois State
Golden Circle Milestone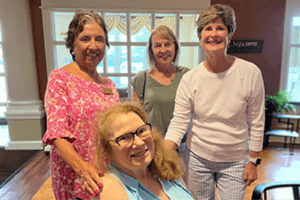 The Low Country, SC Alumnae Chapter held a Golden Circle milestone ceremony in a rehab home for Candace Lovely, Vermont, a nationally recognized impressionist painter. On a trip home to Hilton Head Island with her husband in November 2021, Candace experienced a torn heart artery resulting in complete paralysis on her dominant side. Despite rigorous rehab, Candace still cannot regain movement on her dominant side, leaving her life of painting on hold.
Submitted by Linda Howard Vingelen, North Dakota 
Reunions!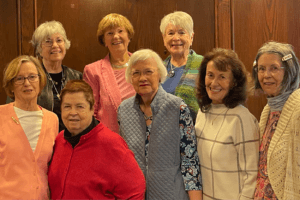 The Iowa State class of 1958 has been holding reunions every two years for the past 40 years. This past May they gathered in Minneapolis to celebrate over 60 years of friendship and love.
Pictured in back row from L to R: Jo Wixon Fitzsimmons, Mary Knudsen Senio, Dot Bushing Hansen
Front row from L to R: Martha Collins Calta, Cherie Donels, Madeline Lange van der Ziel, Linda Seabury Herman, Judith McHugh Sweeney
Submitted by Martha Calta, Iowa State 
Symbol Sightings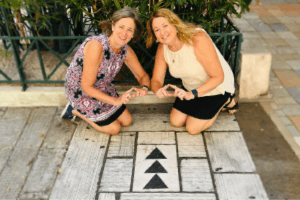 Tri Delta is always on our minds (and sidewalks!). Cheryl Ranguette Munns, Wisconsin, recently traveled to Athens, Greece, with her sister, Laurel Ranguette Rohde, Wisconsin, and came across Tri Delta on the sidewalk.
Submitted by Cheryl Ranguette Munns, Wisconsin 
All in the Family!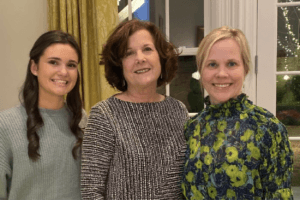 It's a legacy that spans four extraordinary generations of Tri Delta women! Carrying the memory—and carrying on the Tri Delta tradition—of the family matriarch, Camille Hancock Wood, are her daughter, Nancy Wood Williams, granddaughter Elizabeth Williams Bonnecaze and great granddaughter Camille Wood Bonnecaze, all Louisiana State.
Submitted by Elizabeth Williams Bonnecaze, Louisiana State