Tri Delta has been hard at work taking our history digital! At our recent 60th Biennial Convention, we officially announced the launch of a multi-year project to fully digitize Tri Delta's archives. And now, the very first pieces of our digital archives is available to all—searchable and sharable—right from your phone or laptop.
Tri Delta's historical collections offer a glimpse into the lives of collegiate and alumnae women since the late 19th century. For more than 130 years, Tri Delta has preserved a wealth of historical materials, including member photographs, letters, meeting notes, scrapbooks, jewelry and more.
While our Ginger Hicks Smith Museum & Archives, located at Tri Delta's Executive Office in Dallas, Texas, is an amazing asset for our sisterhood, digital archives are not limited or constrained by walls.
With the help of HistoryIT, a premier digital archive service whose mission is to save history—and with the support of several generous donors—these historical records are now being preserved and made accessible online. It is a huge undertaking, but we believe it's important as we work to protect and preserve Tri Delta's history for generations to come.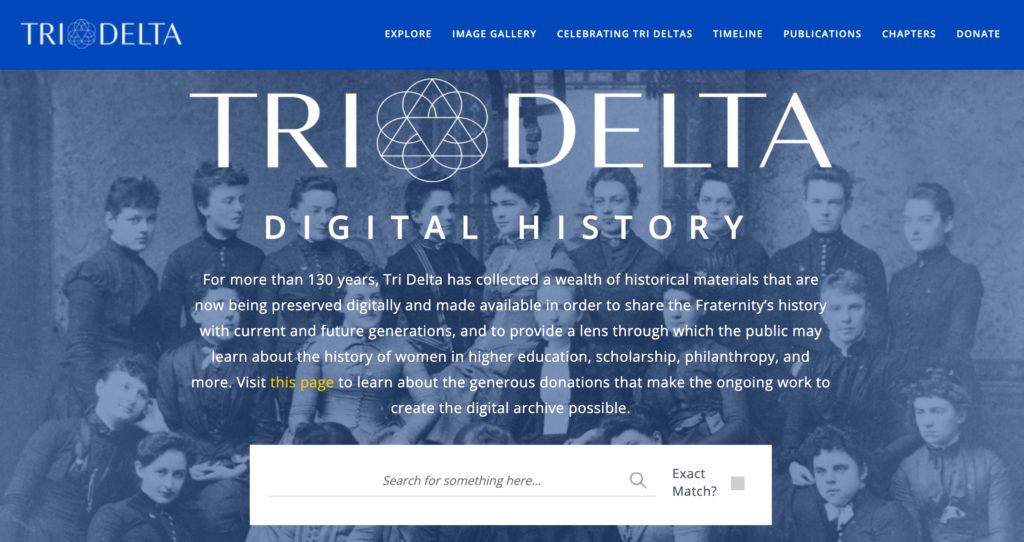 In the Archives Today 
What can you find in our digital archives today? Check them out to discover:
Founder's Exhibit: Unknown facts about our Fraternity's Founders and founding at Boston University in 1888 
Celebrating Tri Delta: Inspirational women helping make the world a better place 
Timeline: Major events and trends throughout the history of Tri Delta since our founding in 1888 
The Trident: Past issues of our magazine dating back to 1896! 
Chapters and Members: Search capability by individual members' names or by chapter 
Archives for Tomorrow 
What you'll find today in our digital archives is just the beginning! Can't find much information for your chapter or wondering where your photos are? We are adding to our archives regularly, so each visit to the website will uncover new pieces waiting for you to discover. But to fully digitize all of Tri Delta's history …
We Need Your Help 
The endeavor of digitizing the large amounts of artifacts in our possession will take time for both Tri Delta and HistoryIT to sift through, categorize, label and future-proof. It will also take the generosity of donors—ensuring we have the funds to continue this lofty but necessary project. We invite you to join us in protecting and preserving Tri Delta's history. Make a donation here, or find out other ways you can help by emailing foundation@trideltaeo.org.