In Tri Delta's digital archives, there is a cherished recording of our Founder, Sarah Ida Shaw, addressing the 1938 Convention of Delta Delta Delta. Her 50th-anniversary message is one of the last she makes before her passing. She remarks, "Never in my wildest dreams did I dare to hope that I should live to see our beloved Delta Delta Delta 50 years old. Never in my earliest dreams, when a college woman was a curiosity, did I expect that women would one day go to college in such crowds that Delta Delta Delta would flourish in places in that time unknown."
What a powerful reminder this is to let ourselves dream about the future! We know that in Tri Delta when we dream big, it can change the world.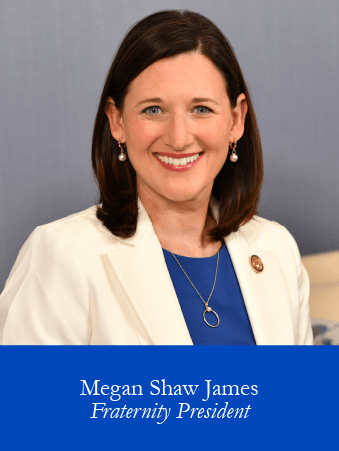 Tri Delta's governing boards took the opportunity to dream big this year in crafting a new enterprise strategic plan for Tri Delta to take us from 2024 to 2027. We had an important responsibility to chart the future of our beloved organization as we reshaped a plan that had been crafted in late 2020. At that time, we were focused on supporting our members through a global pandemic, a national conversation about diversity, equity, inclusion, access and belonging, and growing anti-Greek sentiment. While the past four years were often difficult, they also provided us new opportunities for learning and growth. We are grateful that Tri Deltas found new, innovative ways to thrive!  
Every great plan starts with a vision and this one is no different. We wanted our vision to reflect Tri Delta's Purpose, the influence Tri Delta has on our members' lives and the impact our members have on the world.
As we celebrate Tri Delta's 135th Founders' Day, we are excited to announce and begin living into our new vision statement:  
Bound by sisterhood, inspired by the kindness and committed to belonging, Tri Delta empowers women to lead bravely, act boldly and use our voices to change the world.
To us, these words exemplify the way Tri Delta shows up in the world. Tri Deltas are friends and sisters with a special bond. We are ambassadors of kindness instilled in us by our Founders. Tri Delta is a welcoming place where women come to be themselves. Tri Deltas are women on the leading edge, always looking for ways to connect, grow, know better and do better. We are women who step into the world with courage. We are brave, bold and kind and we know the impact our voices and our lives can have on others. Our vision is our Purpose brought to life. 
With this vision statement as a foundation, we set out to hear from you—our members. Through surveys, focus groups and listening sessions, we learned:
You love giving back and the platform that Tri Delta gives you to do that.
You strongly believe in the Tri Delta experience and want to ensure it is available to women for years to come.
You seek relevant ways to connect with Tri Delta.
You cherish your membership, whether you joined in college or as an honor initiate or during formal or informal recruitment.
You strongly believe this sisterhood is meant to be shared and enjoyed at every age and stage of life.
This feedback helped us develop Tri Delta's 2024-2027 Enterprise Strategic Plan. The plan includes three strong outcomes and three objectives that are shared across the enterprise from the Fraternity to Tri Delta's Foundation to Tri Delta Housing. We are One Tri Delta and we serve our members best when we all work together.  
Our shared outcomes are more engagement, more belonging and more resources. Those outcomes will be achieved through three overarching objectives:
First, we seek to reimagine the lifetime member experience. We'll accomplish this by differentiating the Tri Delta experience with multiple pathways to membership and meaningful experiences.
Second, we will center diversity, equity, inclusion, access and belonging (DEIAB) in Tri Delta by breaking down barriers, equipping our leaders and incorporating measurement and accountability across the enterprise.
And third, we aim to strengthen our business model by diversifying revenue and growing enterprise assets to ensure Tri Delta's future.
These lofty aspirations remind us of the pine tree reaching straight up for the stars. We are an organization that strives for excellence. That is who we were when Sarah and her friends brought us to life in 1888 and that is who we will be for many, many years to come.
As Sarah Ida Shaw concluded her 50th-anniversary address, she shared, "To those of you who are now carrying on in the magnificent work of Delta Delta Delta, it is my precious privilege to give you the charge that you are to pass on the torch, undimmed."  
May we all feel the call of our beloved Founder by continuing to steadfastly love one another and Tri Delta.
Delta Love,


Megan Shaw James, Millsaps
Fraternity President