In the Ginger Hicks Smith Museum and Archives at Tri Delta's Executive Office, displayed among the personal belongings of Sarah Ida Shaw, Boston, is a small hand painted pine cone dish. Easily overlooked by visitors anxious to view our Founder's badge and photos from the founding chapter, this little dish has a lovely sisterhood story behind it.
A Gift Sent with Delta Love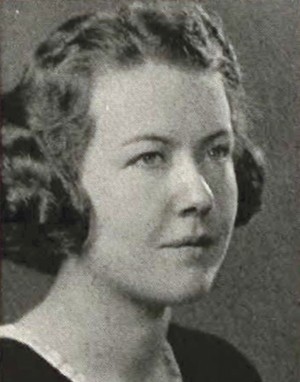 At Christmas in 1937, Ruth Messer Anderson, Boston, was finishing her first difficult semester of medical school at Boston University. Like Sarah Ida Shaw, Ruth had also graduated from Boston's Girl's Latin Academy, and had also received her bachelor's degree from Boston University, becoming a member of Alpha Chapter in 1933. Ruth sent a Christmas card to Sarah Ida Shaw featuring a tree and a candle. Sarah answered her card with the gift of the small dish, along with a note:
"Am sending you something with a great deal of Delta love. It is something that has been on my desk for a number of years, something made for me by a friend . . . who knew of my great love for the pine tree. Have always wanted some nice Δ Δ Δ to have it and I have picked you, because you have chosen the healing art as your profession—and the pine tree is the tree of life. [On your card] I noticed but one candle—perhaps symbolic of your utter devotion to one idea—your chosen work. I am taking the liberty of adding a good measure of light-heartedness [to go] along with your serious work . . . you'll be a better physician for being happy-hearted . . ."
Lofty Aspirations
The dish obviously touched Ruth's heart, since she held onto it for many years. Ruth went on to choose anesthesiology as her medical specialty at a time when there were few women in the field. A successful physician, she was appointed Chief of Anesthesia at Cushing VA Hospital in Framingham, Massachusetts, and wrote the first CPR course used in Connecticut. She married a fellow medical student at Boston University, Fred A. Anderson in 1940, and they had four sons.
In 1985, Dr. Anderson sent the dish to Tri Delta's Executive Office, along with a recounting of its story. The dish has since been displayed with Sarah's belongings as a memento of a special friendship, a reminder of the joy we find in the little things that represent the loving symbols of Tri Delta.