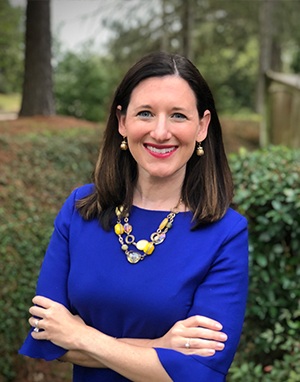 Millsaps College recently announced Tri Delta Fraternity President Megan Shaw James as the new dean of students.
Megan, a 2004 Millsaps graduate, is the first woman to hold this role at the institution. However, she is not the first Tri Delta Fraternity President to serve in such a leadership position.
Megan follows in the footsteps of early Tri Delta leader and past Fraternity President Bessie Leach Priddy, Adrian, who served as Dean of University Women at the University of Missouri nearly 100 years ago.
While their service occurred 100 years apart, there are similarities between their service, their careers and the state of the world during their leadership.
Dean of University Women
Bessie began her educational journey at Adrian College, where she filled many prominent positions across the campus, including helping to establish Gamma Chapter of Tri Delta and speaking on behalf of the Fraternity at the World's Fair Fraternity Congress. She was also a delegate to the first Women's Panhellenic Congress in 1891.
Following college, she was principal of the schools in Capron, Illinois, for two years and taught in the Adrian Public Schools before being appointed head of the German Department in the college. In addition to her teaching career, she was also involved in many community activities, serving as president of the Adrian Woman's Club, treasurer of the Michigan Federation of Women's Clubs, president of the College Alumni Association, and compiler of the Adrian College Alumni Bulletin.
Bessie received her master's and Ph.D. at the University of Michigan and was an assistant professor of history at Michigan State at Ypsilanti. In 1921, she took three months off to visit 18 different colleges to study college women's experiences on campuses throughout the country. In 1923, she took a position as Dean of Women at the University of Missouri.
A statement from the president's office at Michigan State said of Bessie, "Missouri is especially fortunate in securing the services of Mrs. Priddy as Dean of University Women since she has extensive experience in handling the problems of housing, conduct and health affecting women in attendance at college." Bessie held that position for another nine years until ill health forced her retirement. During her time at Missouri, she was known for her compassion, wise counsel and gentle humor.
Like Bessie, Megan has committed her career to supporting the development of college students, both through her work with Millsaps and through her leadership of Tri Delta. Prior to being named dean of students, Megan had served as Millsaps' assistant dean of students for eight years, in addition to serving as alumni engagement associate at the University of Mississippi Medical Center.
Leading Tri Delta
Bessie remained active in Tri Delta, utilizing the depth of knowledge about the history of the Fraternity she received through her long association with Sarah Ida Shaw Martin, Boston, R. Louise Fitch, Knox, and Amy Olgen Parmelee, Northwestern. She served as National Historian from 1902 to 1931, during which time she published two editions of "A Detailed Record of Delta Delta Delta." Although she was approached many times about serving as Fraternity President, she declined for many years. Bessie finally accepted the honor in 1931 but served only one term due to failing health.
As economic conditions in the country were becoming more serious, the goal of Bessie's administration was "not a chapter lost nor a house sacrificed because of the Great Depression." The goal was realized but required close work with individual chapters, special funds created to provide emergency aid to chapters and members, and emphasis on the value of members completing their education. Despite the Great Depression, Tri Delta continued to grow. By the time of the 1934 Convention, the Fraternity had established seven new chapters across the country.
And, like Bessie who led Tri Delta through the Great Depression, Megan has stepped into leadership during an unparalleled time in history as the organization faces the challenges of the COVID-19 pandemic. Both have proven themselves steadfast leaders who have equipped Tri Delta to meet the challenges of the day, and remain strong into the future.
An Inspiration to Follow
After Bessie died in St. Louis, Missouri, in 1935, R. Louise Fitch remembered her, "Bess believed in the ideals of Delta Delta Delta and worked and planned to help make it a strong organization, one which has a definite influence on its members in helping them develop character, stability, kindliness, and unselfishness."
We are proud to have Megan continuing the path laid by Bessie Leach Priddy and inspiring future generations of Tri Deltas.