Introducing – the newest addition to The Trident – OutstanDDDing Deltas. We receive so many interesting and inspirational stories about our members and now we have a way to share and celebrate those with our sisterhood!
University of Arkansas – Delta Iota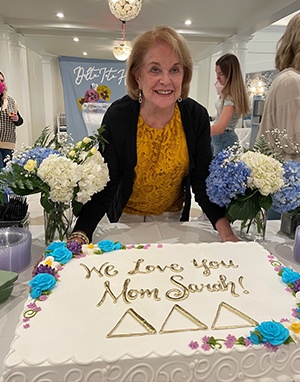 Sarah Polk (aka "Mom Sarah"), Arkansas, is officially retiring as the house director for Delta Iota Chapter at the end of the spring semester. To honor Sarah and celebrate the next step in her journey, Delta Iota Chapter threw her a special retirement party. Thank you, Sarah, for your unselfish service to Tri Delta and your commitment to supporting our collegiate sisters these past six years.
Dr. Kathleen Connery Cronin, Arkansas, graduated last May with an M.D. from the College of Medicine at the University of Arkansas for Medical Sciences in Little Rock, Arkansas. Her pledge sisters from Delta Iota Chapter watched her virtual graduation celebration on Zoom from all over the county, and sent her flowers in support—Delta Love in a time of social distancing!
Boise State – Beta Eta
Congratulations to Pam Beem Grove, Boise State, for being named 2021 Idaho Mother of the Year by American Mothers! Pam is a real estate agent and has a passion for volunteering. She's volunteered with The Salvation Army, where she won the Tea Pot award for their young parent program in 2019. She also enjoys planning neighborhood events for the kids and credits her own mother as being her inspiration.
In her Idaho Mother of the Year interview, Pam shared, "I think the biggest thing is to follow through and let your children know that you there for them no matter what. That we will get through whatever choices you make and that we always learn from our mistakes."

University of Colorado – Theta Beta
Julie Dyer Vree, Colorado, is a Lead Writer for Google Hardware, taking on branding, content strategy, and creative initiatives under the Pixel and Nest brands. She spends her free time mentoring girls interested in STEM, creative or both and volunteering at hospitals with her certified therapy dog named Snax.
Dickinson College – Gamma Epsilon
Jamie Anderson, Dickinson, owns an independent bookstore called Downtown Books in Manteo, North Carolina. She has worked hard to support her town and surrounding community while keeping her own store open throughout the challenges of the last year, servicing her local clientele and out-of-towners. As a result of her work, she was included in a portrait exhibit by photographer Anne Parsons, "Women Warriors – Past, Present, Future," which was on display in March at the Dare County Arts Council in Manteo. 
University of Florida – Alpha Psi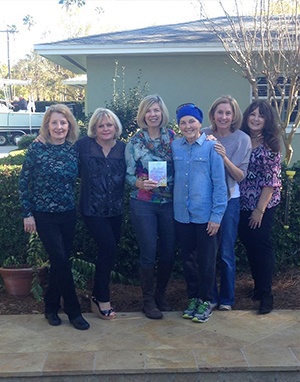 Julie Murray Rayburn, Florida, wrote an inspirational book "Be Still and Know" dedicated to her Tri Delta sister Jodi Jones Knauf, Florida, who passed away from metastatic breast cancer in April 2015.
April 21, 2021, marked six years since Jodi's passing. To honor her, Jodi's husband, Dr. Bert Knauf, and parents established a scholarship at the University of Florida Medical School in her name. The Jodi Jones Knauf Endowment Fund will perpetually provide a deserving young woman entering the Physician Assistant program a two-year scholarship at the University of Florida Medical School. As a PA and occupational therapist, Jodi spent many days, months and years at the school gaining the knowledge to provide the best patient care.
"Jodi was a giver, so she would be very excited to be a part of giving back to a place and purpose that meant so much to her," shared Tri Delta sister Tina Rose Freeman, Florida. 
University of Indiana – Delta Omicron
Gail Harrison Corvette, Indiana, is currently serving as national president of Mortar Board. Out of her 10-member board there are two other Tri Delta sisters: Jan Farrington, Mississippi, and Laura Simic, Oregon. Mortar Board is a national honor society that recognizes college seniors for their exemplary scholarship, leadership and service.
University of Miami – Alpha Chi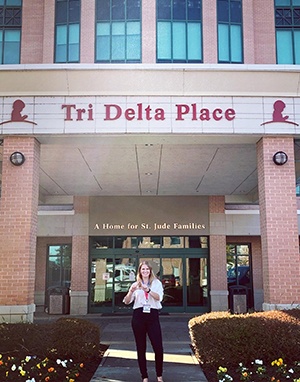 Elizabeth Foley, Ph.D., Miami, received a post-doctoral fellowship at St. Jude Children's Research Hospital in the Department of Epidemiology and Cancer Control. Her current research includes bone and muscle health in childhood cancer survivors, dietary patterns of childhood cancer survivors and the gut health of childhood cancer survivors. Elizabeth now gets to see Tri Delta Place every day when she looks out her office window.
University of Montana – Theta Rho
Jean'ne M. Shreeve, Montana, is celebrating 60 years with the University of Idaho where she is a University Distinguished Professor in the department of chemistry. Jean'ne was hired by the university in 1961 after receiving her Ph.D. in inorganic chemistry from the University of Washington. She chaired the chemistry department at the University of Idaho for 14 years and served as vice president for research for 12 years.
She has been a prolific researcher, having produced 700 publications and at least one patent over the course of her career, with her research focusing on synthesizing compounds which contain fluorine, an extremely reactive element that can be used in rocket fuel oxidizers. Congratulations to Dr. Shreeve on her outstanding accomplishment and for setting an incredible example for women (and Tri Deltas!) in STEM to follow.
Southern Methodist University – Theta Kappa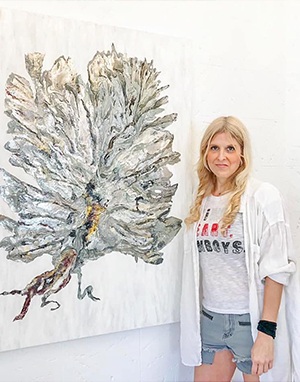 In February Shana (Leslie) Stern, Southern Methodist, was named Artist of the Month by the Multiple Sclerosis Association of America (MSAA). After being unable to hold a paintbrush because of MS, Shana began painting using her fingers and knuckles.
Diagnosed with Multiple Sclerosis in 1999, the L.A.-based artist first began painting in 2012 when she could no longer write or express herself through dance, which she had been doing since age three. Instead, Shana transforms her love of music, dance and storytelling into a lyrical painting style with each painting inspired by and created to a single song.
Shana shares on the MSAA blog: "Crouched over canvas, covered in paint, lost in the music—everything else disappears. All my pain, cognitive and physical issues dissolve away into beauty and the freedom that painting affords me. I've lost much to MS, but my art has given me a second chance in life. I still get to tell stories—but instead of using a pen, I now use paint."
Texas Tech – Phi Eta
Diane Scovell, Texas Tech, was recognized as the 2021 Junior League of Dallas (JLD) Sustainer of the Year at the organization's virtual Milestones Luncheon on March 26. Diane has served the Dallas community as a member of JLD for more than 40 years. Her roles have included former Ball Chair, R&D Chair, Project Chair, Endowment Committee and Sustaining Advisor, among others.
Her service to her community doesn't stop there. Diane has co-chaired the Dallas Mayor's Task Force on Race Relations and served as the co-chair and board member for the Laura Bush Institute for Women. Her service extends to the Texas Trees Foundation (which she founded), Crystal Charity Ball, Goodwill Industries of Dallas, The Senior Source, Children's Medical Center Foundation, Friends of Fair Park, Dallas Summer Musicals, UT Southwestern Circle of Friends and the Scovell Scholarship Foundation.
University of Toronto – Canada Alpha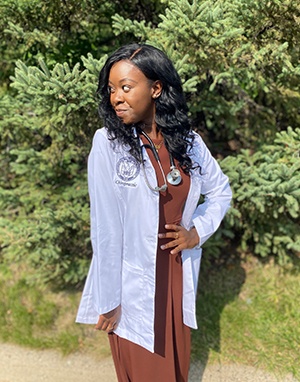 Faiza Agyemang, Toronto, is currently pursuing her Doctorate of Chiropractic in Minneapolis. She just received her white coat and is set to graduate in April 2022! Congratulations, Faiza!
University of Wisconsin – Mu
Gabriel Wachowski, Wisconsin, was recently hired on as a data analyst for the Milwaukee Bucks. Gabriel graduated this past year with a master's degree in data science after receiving her bachelor's degree in statistics. The only woman in her department, Gabriel says she's hoping to see more women in technical roles—and in sports—in the future.
Do you have news to share or know of a sister to spotlight? Let us know!