Each month, Tri Delta publishes In Memoriam, highlighting the lives of some of our Distinguished Deltas and longtime volunteers and sharing a full list of sisters who have recently passed away. Below is the In Memoriam for May 2021.
Cheryl McDonough, Vermont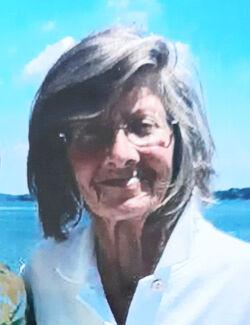 Tri Deltas were saddened to learn of the death of former Eta Chapter house mother Cheryl McDonough. Cheryl received a bachelor's degree in English from the University of Vermont in 1971, where she joined Tri Delta. Years later, Cheryl would return to Eta Chapter to serve as a caring house mother to her younger Tri Delta sisters.
A dearly loved sister, auntie, mother, friend and colleague, some will remember Cheryl from her antique shop in Waitsfield, as the flea market vendor of linens and other items she lovingly restored, as the award-winning, ever fun-loving school crossing guard, or as the city councilwoman from Ward 2 who championed her beloved neighborhoods, and the entire city, for many years.
Yet, everyone who knew her will remember Cheryl as the kind and happy soul who she was. A fiercely independent, some might say stubborn, woman, Cheryl believed deeply in the sisterhood and brotherhood of all humankind and remained ever steadfast in her commitment to those beliefs.
Susan Sedette Morawski, Texas/Arlington 
Susan Sedette (Watson) Morawski, founding member of Tri Delta's Beta Epsilon Chapter at the University of Texas at Arlington, passed away peacefully on May 30, 2021. Susan graduated in 1968 magna cum laude with a degree in math and later earned a master's in mathematics and computer science at Texas Woman's University.  
Susan would go on to teach high school math as well as serving as an associate professor of mathematics at College of the Mainland in Texas City, Texas. In addition to her teaching career, Susan worked at IBM on enterprise planning software and later worked in programming for the International Space Station.
Cynthia Pepper Reed, Georgia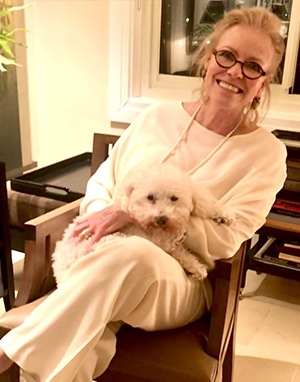 Cynthia Pepper Reed died peacefully surrounded by family and friends on May 13, 2021, after a valiant fight against cancer. She attended the University of Georgia, where she was a member of Tri Delta's Alpha Rho Chapter and majored in interior design. Upon graduation in 1970, she accepted a position in Washington, D.C, as in-house interior designer for the department store chain Woodward & Lothrop. During her several years at "Woodies," she developed a loyal following of clients, most of whom became friends, and then branched out and opened her own firm of Cynthia P. Reed, Ltd., in Georgetown, where she operated for decades.
Her award-winning work won her national and international recognition in magazines like Architectural Digest and Southern Living and she worked for clients in locales all over the world, including New York, Miami, Paris, London, China and Bahrain. 
This In Memoriam list includes sisters who were reported as deceased to Executive Office May 1-31, 2021. If you know of a sister who has passed away, please report her information to Executive Office by emailing memberrecords@trideltaeo.org.
ALABAMA
Oldham, Elizabeth '91 d. 5/2021
ARIZONA
Van Sicklen, Lenore Dykes '46 d. 3/2015
CA-LOS ANGELES
Vandeveer, Betty Ober '45 d. 5/2021
COE
Gidel, Gretchen Carrier '37 d. 4/2021
COLORADO
Abbott, Vanessa Links '74 d. 3/2012
Cox, Lynda Eastman '77 d. 1/2021
Williams, Betty Brown '56 d. 5/2021
DEPAUW
Stoops, Margaret Mobberly '37 d. 1/2018
Tykal, Helen Gibson '49 d. 5/2020
FLORIDA STATE
Burdick, Susan Butler '59 d. 5/2021
GEORGIA
Barton, Anne Vickers '66 d. 11/2020
Griffin, Mary West '49 d. 5/2021
Reed, Cynthia '68 d. 5/2021
INDIANA
Richardson, Joan Meininger '47 d. 10/2017
KENTUCKY
Tobin, Myra '60 d. 4/2021
MANITOBA
Carpenter, Dora Marchant '37 d. 1/2018
Humphrys, Barbara '38 d. 2/2017
McDonell, Asa Kristjansson '36 d. 6/2020
Newman, Joyce Parker '36 d. 12/2011
Scrimgeour, Margaret Proter '39 d. 10/2011
MIAMI-OH
Renkert, Jenny Lou Craig '47 d. 11/2020
MICHIGAN STATE
Azzam, Jacqueline Nette '56 d. 4/2021
MISSISSIPPI
Barker, Anne Herrington '59 d. 1/2021
MISSOURI
Hall, Carolyn Moore '50 d. 5/2021
Zieske, Gerry Parrish '42 d. 2/2021
NORTHWESTERN
Haynes, Martha Carter '49 d. 1/2021
Luecker, Gwen Kroehl '34 d. 11/2020
OKLAHOMA
Richardson, Sandra Slavik '51 d. 5/2021
OREGON
Borrevik, Julie Astrup '55 d. 7/2018
Hess, Sandra '56 d. 1/2014
RHODE ISLAND
Creelman, Betty Jane Benson '61 d. 1/2021
SOUTH CAROLINA
Gilreath, Nancy Poag '62 d. 5/2021
SOUTHERN METHODIST
Wood, Patricia Eickmeyer '62 d. 5/2021
TEXAS
Newsom, Doug Johnson '51 d. 5/2021
TEXAS CHRISTIAN
Blanton, Joan Mouser '57 d. 4/2021
Dutton, Anne Carpenter '55 d. 6/2020
TEXAS TECH
Holmes, Beverley '82 d. 4/2021
TEXAS-ARLINGTON
Feldman, Allison Sandlin '94 d. 2/2021
TOLEDO
Basinger, Judith Williams '59 d. 5/2016
UTAH
Argus, Paula Mantes '53 d. 7/2020
Bateman, Marilyn Brockbank '46 d. 1/2019
Bean, Janet Butler '45 d. 12/2019
Burton, Dorothy Sheats '44 d. 3/2020
Ferrin, Nancy Heath '52 d. 2/2020
Guymon, Maureen Burnham '40 d. 2/2020
Lee, Jane Kitchen '56 d. 1/2021
Nelson, Robyn '77 d. 3/2013
Reed, Beverly Keeley '50 d. 1/2019
Roe, Beverly Ogaard '42 d. 1/2013
Russell, Nan Brockbank '50 d. 11/2020
Sandberg, Mary Robinson '43 d. 4/2012
Schwantes, Margeen Woodruff '47 d. 2/2020
Tanner, Barbara Lindquist '36 d. 4/2020
UTAH STATE
Hansen, Nikki '59 d. 9/2020
VERMONT
Murray, Marilyn Cozzi '56 d. 4/2021