Tri Delta's Alpha Sigma Chapter at the University of North Carolina resides in a charming and unusual Victorian home built in 1853. Their home is listed in the National Register of Historic Homes and was lovingly restored when they moved into the property in the late 1970s. As intriguing as the home was the life of its original owner, Samuel Field Phillips, a lawyer who served as solicitor general under Presidents Grant, Hayes and Garfield and who dedicated his career to fighting for equality.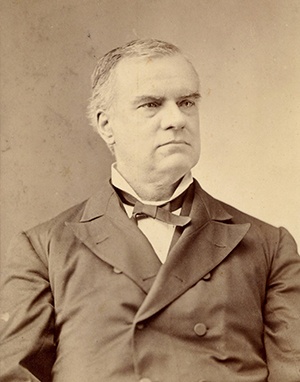 The son of James Phillips, Samuel Field Phillips went to North Carolina as a child when his father took a position as math professor at the new university in Chapel Hill. He graduated from the university with honors in 1841 and earned his master's degree three years later.
Afterwards, Phillips studied law and was admitted to the bar in 1845, opening a law practice in Chapel Hill. His law office still stands, a small stucco building next door to his former family home.
He was an instructor in the UNC law department before he began a long career in public service winning seats in the General Assembly in 1852 and 1854.  
Fighting for Legal Rights for Black Americans 
Phillips opposed the secession of North Carolina from the Union. During the Civil War, he influenced state government in several positions, including as state auditor and official reporter of the state supreme court. In 1864, he was re-elected to the state legislature and in 1866 became Speaker of the House. He fought for the expansion of legal rights for Black Americans, succeeding in obtaining rights for freedmen to testify in cases in which they were parties.
Setting a Precedent for Voting Rights 
In 1872, President Grant appointed Phillips to serve as the second solicitor general, a post he would hold until 1885. During his tenure, he argued for the constitutionality of the 1871 Enforcement Acts, which upheld Black Americans' rights to vote, to hold office, to serve on juries and to receive equal protection. Although he was overruled by the Supreme Court, he set a precedent that was used in the 1960s over voting rights. He also advocated for upholding the conviction of Ku Klux Klan members who assaulted a Black man for voting in a congressional election.
Defending Civil Rights 
He returned practicing law in Washington in 1885, taking up a number of important cases. He was part of the team that argued the Civil Rights cases of 1883, using the Civil Rights Act of 1875 and the 13th and 14th amendments as a defense. Along with former colleague Albion W. Tourgée, Phillips was part of the legal counsel representing Homer Plessy in the landmark Plessy v Ferguson, which unsuccessfully fought the separate-but-equal doctrine.
Phillips retired from practice in 1901 and died in Washington, D.C., in 1903. Samuel Phillips is buried in Chapel Hill, North Carolina, the place he always considered his home.