Laurie Hernandez: Olympic Gold Medalist & "Dancing with the Stars" Winner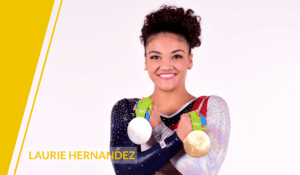 Laurie will keynote CLC on Saturday, March 5. This session is open to all attendees.
Since bringing home the gold and silver medals at the 2016 Rio Olympic Games, Laurie has gone on to win the coveted Mirrorball Trophy on "Dancing with the Stars" Season 23, published two New York Times Best Sellers: "I Got This: To Gold and Beyond" chronicling her life's journey and "She's Got This", a children's picture book, all while serving as a Literacy Champion to promote readership as a path to leadership. Mattel even created a Laurie Hernandez "Shero" Barbie to honor her!
She is a second generation American of Puerto Rican descent, making her the first U.S. born Latina to make the U.S. team since 1984. Laurie is currently training to compete for a spot on the Olympic Team in Tokyo this summer.
When not in the gym, Laurie enjoys spending time with her family. Acting is one of her biggest passions and she has done cameos and voiceovers, and she has even co-hosted "American Ninja Warrior Junior." She travels the country speaking to the next generation about following your dreams and embracing who you are. She is also a fierce advocate for the importance of mental health and has partnered with multiple campaigns and initiatives to encourage awareness.
Erica Dhawan: World Renowned Keynote Speaker on Collaboration, Author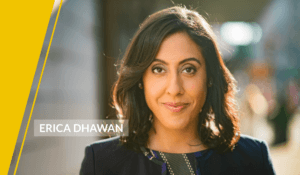 Erica will keynote the Executive Session on Friday, March 5. This session is for members of the executive committee.
Erica Dhawan is the world's leading authority on Connectional Intelligence and the Founder & CEO of Cotential. Through speaking, training and consulting, she teaches business leaders innovative strategies that increase value for clients, deliver results and ensure competitiveness. She is the co-author of the bestselling book Get Big Things Done: The Power of Connectional Intelligence. Erica was named by Thinkers50 as "The Oprah of Management Ideas" and featured as one of the emerging management thinkers most likely to shape the future of business. She hosts the award-winning podcast Masters of Leadership. Erica speaks on global stages ranging from the World Economic Forum at Davos to companies such as Fedex, Pepsico, and McGraw Hill Financial. Erica writes for Harvard Business Review, Forbes, Fast Company and the Huffington Post. Erica also serves as a board member to Lufthansa Innovation Hub. Previously, she worked at Lehman Brothers and Barclays Capital. She has a MPA from Harvard University, an MBA from MIT Sloan, and a BS in Economics from The Wharton School.
#TrendingNow Workshops
There will be two sessions of #TrendingNow Workshops during CLC, on Saturday at 11:15 a.m. and 12:30 p.m. CT. #TrendingNow Workshops are designed to provide timely education on topics that are relevant to today's college student. There are four themes for workshops including:
Live Your Best Life – Health & Wellness
Money Goals
College to Career
LEADDD Now