When is Collegiate Leadership Conference?
April 14 through April 16. CLC begins at 5:30 p.m. on Friday and ends on Sunday at 12:30 p.m. CT.
CLC will be held at the Hyatt Regency DFW Airport, located at Terminal C of DFW Airport. Executive Office will make hotel reservations on your behalf. Each chapter will have two sleeping rooms. For shuttle pickup from DFW Airport, call 972-453-1234 with gate and terminal information.
In-person attendance at CLC is required for the following newly slated officers, whose term begins fall 2023:
Collegiate chapter president
VP/operations
VP/membership experience
VP/chapter programming & development
VP/community relations
Registration for CLC closes March 31. Register online here. You will need your My Tri Delta username and password access the registration page. If you need help accessing your member profile, contact events@trideltaeo.org. Each attendee must register themselves.
Collegiate Attendees: Chapters are responsible for all travel arrangements and costs associated with CLC. This year, take advantage of our travel agent services offered through TripEasy! Book your travel using this. Making your travel arrangements with TripEasy means you'll have a team of professionals to help in the event of flight cancellations, illness or other disruptions to your travel.
Facilitators, Volunteers and Staff: Shortly after registration, you will receive an email with instructions on how to book your travel with TripEasy. Tri Delta will cover the cost of your travel. Please do not use the link above.
Yes! Parking is available at the hotel. We encourage all chapters more than 300 miles from Dallas to fly to CLC. If you do plan to drive, review our Driving Safety Tips and download the CLC 2023 Spotify playlist.
When do I need to arrive?
Flights should arrive on Friday by 4:00 p.m. CT and depart on Sunday no earlier than 2:00 p.m. CT. If you need to travel to Dallas on Thursday to make it in time, contact events@trideltaeo.org for hotel accommodations.
What are the hotel accommodations for collegiate members?
Each chapter will have two hotel rooms for Friday and Saturday nights. If you need to travel to Dallas on Thursday to make it in time, contact events@trideltaeo.org for hotel accommodations.
Who do I call if I'm having flight issues?
If you've booked a flight through TripEasy and need help from an agent on Friday, call an agent at 844-846-6798.
What meals will be served during CLC?
Dinner Friday; breakfast, lunch and dinner on Saturday; breakfast on Sunday; snacks throughout.
Feel free to pack additional snacks and a refillable water bottle to keep on hand. There is a small coffee bar at the hotel serving Starbucks and snacks that can be purchased. All meals are buffet style with options for those with specific dietary requirements. If you have dietary requirements you'd like to discuss in more detail, please contact events@trideltaeo.org.
Tips for getting the most out of your CLC weeked:
Get some extra rest this week before you head to town.
Stay hydrated throughout the weekend.
Check the schedule beforehand and download the event app, EventMobi.
Meet with your chapter's CLC attendees to talk about your goals for the CLC experience.
Take notes in your educational track.
Network! This is a great opportunity to meet officers who are serving in the same role as you. Break away from your chapter members to sit with new people at meals and initiate conversations with volunteers and facilitators.
Create a GroupMe at CLC with your track and cohort group to stay in touch after the event.
Take lots of photos. Tag us on social media at @tridelta and use #DDDCLC.
What should I wear & pack for CLC weekend?
PACK: Tri Delta Badge, water bottle to keep filled throughout the weekend, extra snacks for late night cravings and light sweater or jacket for chilly hotel rooms
Friday: Athleisure and Tri Delta gear is a must while traveling! Casual attire is appropriate for tours of the Ginger Hicks Smith Museum & Archives for those participating.  
Friday Evening: Show your #DeltaLove by wearing Tri Delta colors or your letters. Friday night is casual.  
Saturday: School Spirit! Wear something that shows your college or university.  
Saturday Night: Denim, Tri Delta pearls, cowboy hats, cowboy boots, plaid, red bandanas, turquoise jewelry and plenty of fringe will be perfectly appropriate for our Texas sized party! 
Sunday: You'll get a custom T-shirts during registration on Friday for you to wear Sunday morning in place of Ritual attire.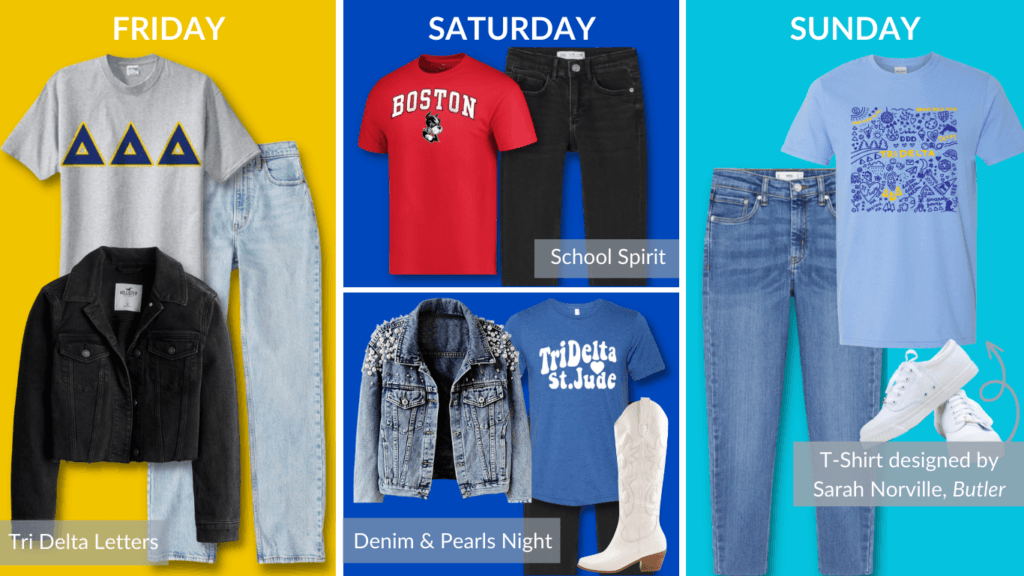 What if I am required to attend but have a conflict?
Per the Attendance Policy late arrival, early departure or general absence requests must be submitted via email to your collegiate district officer (CDO) and collegiate chapter coordinator (CCCo) at least two weeks in advance to communicate and seek approval on any conflicts or factors that would impede your participation in the CLC sessions.
If I cannot attend CLC, can another chapter member attend in my place?
The comprehensive CLC experience is designed specifically for executive committee officers. This experience includes LEADDDer.org modules, a pre-conference community cohort and the in-person conference. Substitutions are allowed on a case-by-case basis. Due to the intentionality behind the overall curriculum and experience, substitutions should be considered with extreme care and thoughtfulness, in collaboration with the chapter's collegiate volunteer team. Substitutions must be approved in advance by the chapter's CDO and CCCo. Executive committee officers must attend their respective track and cannot replace another executive committee officer. For example, if the chapter's CCP is unable to attend CLC, the VPO cannot serve as a substitute for the CCP. Questions can be directed to the chapter's CDO and CCCo.
I have more questions, who should I ask?
Questions about CLC including registration, travel, hotel details and more can be sent to events@trideltaeo.org.