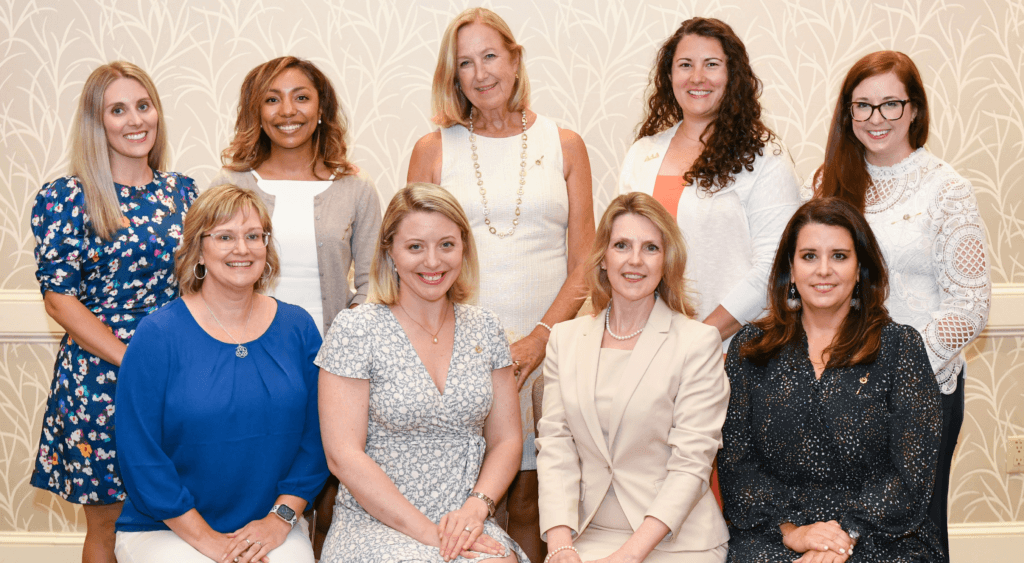 What is the LCSC?
The Leadership Cultivation and Selection Committee (LCSC) is responsible for evaluating and cultivating Fraternity leaders for service in elected and key appointed positions. This committee is made up of a chair, eight alumnae members who are slated by the previous LCSC and elected by the Convention body each biennium and two collegiate members who are selected within the biennium. This committee's main goal is to help all Tri Delta women grow as brave, bold and kind leaders within and outside our organization.
Do you know a woman who is highly qualified and would bring valuable experience and expertise to one of Tri Delta's boards? Introduce her or yourself to the LCSC using this referral form.
Learn more about the work of Tri Delta's boards:
Executive Board
With a Fraternity President and up to six Board Directors, this group is elected by Tri Delta's Convention each biennium. Accountable to Tri Delta's members, the Executive Board is responsible for setting the strategic vision for the organization; upholding the Fraternity's Bylaws, Policies and procedures; and for appointing and guiding its volunteers in support of the membership. Board Directors may serve up to three two-year terms, plus two, additional two-year terms as Fraternity President.
Tri Delta's Foundation Board of Trustees
With a Board Chair, Vice Chair, Secretary/Treasurer, and up to eight additional Trustees, the Foundation Board of Trustees governs the philanthropic arm of Tri Delta. The mission of Tri Delta's Foundation is to raise funds for transformational programs, scholarships, and emergency financial support for the benefit of Tri Delta, its chapters, and its members. The Board of Trustees is responsible for cultivating relationships with donors and stewarding donor funds, including a professionally-managed investment portfolio. Trustees may serve up to four two-year terms, plus two, additional two-year terms as Chair.
Tri Delta Housing Board
With a Board Chair, Vice Chair, and up to five additional Directors, the Tri Delta Housing Board of Directors leads Tri Delta Housing, a not-for-profit corporation that supports, manages and grows all aspects of Tri Delta's chapter homes and facilities. The Board oversees a real estate portfolio valued in excess of $425 million with a focus on strong financial and property management and strategic capital investments. Directors may serve up to three two-year terms, including tenure as Board Chair, and this Board may include non-Tri Deltas.
If you have questions feel free to reach out to the LCSC at LCSC@trideltaeo.org.