Tri Delta boasts an impressive collection of 3,000 passionate volunteers, serving in a variety of roles to support and guide every operational level of the organization.
Board Leadership
The Tri Delta enterprise is led by the strategic visionaries serving on Tri Delta's three boards. Their foresight and enduring support ensure Tri Delta's vitality now and into the future.
Executive Board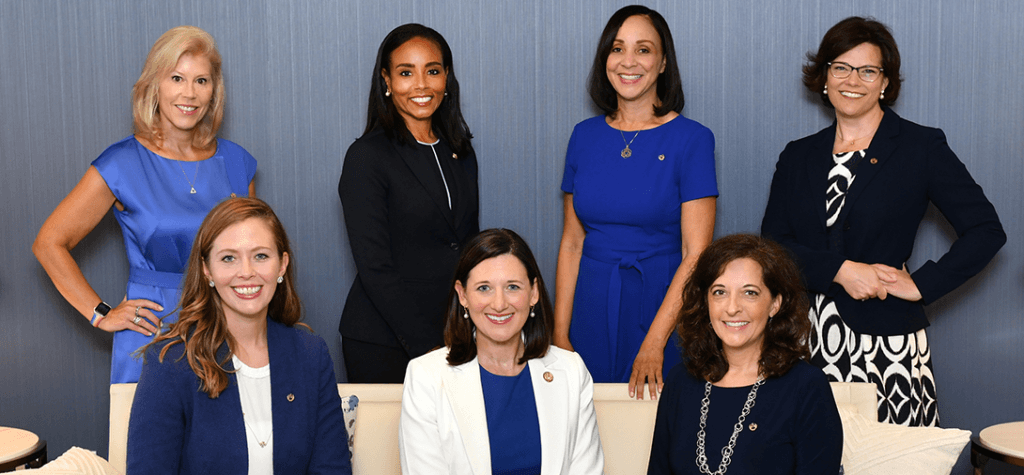 Tri Delta's Executive Board oversees all Fraternity operations. Comprised of Tri Delta members and structured to ensure that all viewpoints are considered in decision-making, our Executive Board is devoted to making sure the Fraternity continues to be a viable, premier women's organization. The Executive Board is accountable for everything the organization is, everything it does and everything it achieves. The women who make up the Executive Board are called to exercise their responsibilities by having strategic conversations to position Tri Delta for success today and in the future. Learn more about each of our 2022-2024 Executive Board Directors:
Fraternity President Megan Shaw James, Millsaps
The 2022-2024 biennium marks Megan's second term serving as Tri Delta's Fraternity President. She previously served our organization as an Executive Board Director (liaison to the Tri Delta Housing Board and Ritual Committee), chair of the Member Discipline Innovation Team, Extension Team member, Leadership Development Committee member, collegiate district officer and chapter development consultant.
Professionally, Megan serves as the Vice President of Student Life and Dean of Students at Millsaps College. As the chief student affairs officer, she is responsible for providing strategic vision, planning and leadership for all areas of the college related to student life. In her roles as Fraternity President and VP/Dean, it is important that Megan demonstrate enthusiasm about building an environment that encourages and empowers students and that, with the right support, students are highly capable of learning, thinking, growing and leading. Both positions also require a commitment to the values of inclusion, respect for all and understanding the needs of a highly diverse and rapidly changing student population. Megan has the ability to interact with a wide variety of constituencies, including students, families, alumni, volunteers and donors, and to appreciate the opportunities and concerns of each group.
Megan previously served as the Alumni Engagement Associate in the Office of Institutional Advancement at the University of Mississippi Medical Center. In this role, Megan focused on establishing strategic relationships with a wide range of alumni to ensure positive relationships with volunteers and campus constituents.
Over the next biennium, Megan looks forward to connecting with and inspiring future leaders of the Fraternity, to give back to the organization that has made the biggest impact on her life and to support future generations of Tri Delta members.
Megan attended Millsaps College where she earned her bachelor of arts degree in psychology with a minor in Spanish. She served Gamma Zeta Chapter as collegiate chapter president, vice president of chapter development and secretary. Megan then received her master of education degree specializing in higher education administration from North Carolina State University.
Megan lives in Jackson, Mississippi, with her husband, Ricky, and has two children, Henry and Catherine. She enjoys reading, volunteering at her children's school and traveling.
Director Elizabeth Howard DiMartino, Boston
As a lifelong volunteer, Elizabeth has served Tri Delta in numerous roles, including collegiate chapter coordinator, Leadership Development Committee member, collegiate district officer, recruitment specialist, extension presentation team member, and most recently as the chair of the Fraternity Membership Status Committee. She also served Tri Delta as a chapter development consultant in 1995-1996.
Elizabeth is an experienced marketing and communications professional with a demonstrated history of working in the primary/secondary and higher education services industries. Currently, she is the Senior Director, University Partnerships at Bisk Education, where she works with a portfolio of university partners to deliver exceptional online learning experiences for students around the world. In this role, she works with a variety of colleges and universities to build strategic, effective and engaging online learning programs. Her work requires a deep understanding of the current landscape and trends in higher education and innovations in online learning. She also works across the organization to ensure that programs meet financial objectives, perform with operational excellence and achieve long-term viability.
Tri Delta has played a significant role in her life and has been a constant source of deep and meaningful friendships, personal development and inspiration over the years. Serving Tri Delta has always provided Elizabeth with a purposeful way to give back for the lifetime of learning, sisterhood and support. She believes that the Purpose is as relevant today as it was more than 134 years ago and is proud of what we have accomplished as an organization and the members who, through their affiliation with Tri Delta, are equipped to make a real difference in the world. As a member of the Executive Board, she is motivated by the desire to ensure that Tri Delta thrives not only in the coming years, but for the generations of Tri Deltas still to come.
Elizabeth was initiated into Tri Delta's Alpha Chapter at Boston University, and in 1995 was named BU's Greek Woman of the Year. She received a B.A. in international relations and earned the College Prize for Excellence upon her graduation. Elizabeth is an active community volunteer with a passion for education and currently serves as the Board President of the Literacy Council of Sarasota.
Elizabeth looks forward to meeting Tri Deltas from all over and hearing their stories and challenges, as well as serving alongside an amazingly accomplished group of Tri Delta leaders. She lives in the Bradenton/Sarasota, Florida, area with her husband, Joe, and their sons.
Director Emily Sawyer Greer, Rhodes
Emily dedicated her 29-year career as a senior executive at ALSAC/St. Jude Children's Research Hospital, the fundraising and awareness organization for St. Jude. Most recently, she was Chief Administrative Officer for ALSAC, where she was responsible for leading the day-to-day administrative operations for ALSAC and served as a trusted advisor and No. 2 to CEO Rick Shadyac.
Emily has a deep commitment to philanthropy and the advancement of women and, since her retirement, she has leveraged her years of human resources, executive coaching and leadership experience to begin her own consulting firm, Greer Leadership Solutions. Her goal is to continue the work she began in her corporate career by helping professionals discover the potential that lies within by developing a safe, trusting and collaborative relationship with her clients. As a member of Tri Delta's Executive Board, Emily looks forward to evolving the value we add to our membership and equipping our members to the best that they can be!
She joined Tri Delta as an honor initiate in 2015 at Rhodes College, Delta Psi Chapter.
Emily loves community service and spends a great deal of time volunteering in her community. Emily lives in Memphis with her husband, Jarvis, and five grandchildren. She and Jarvis enjoy sports and traveling.
Director Leah Clelland Jochim, Ottawa
Prior to serving as a Director on Tri Delta's Executive Board, Leah served in many Tri Delta collegiate volunteer roles including Alumna Advisor, Collegiate District Officer and Collegiate Coordinator NE as well as serving in many Alumnae Chapter roles. Her most recent service prior to becoming an Executive Board member was on the Tri Delta Foundation's Undergraduate Scholarship Committee and is a Board member for Courage to Caregivers. As a transformation leader, Leah is steadfast in her service to member-centric improvements and fostering a diverse and inclusive environment for all of our members.
Leah has had 20+ years in the software industry as a dedicated servant leader and change agent. She helps enterprises deliver more innovative customer value sooner, better, safer by happier teams. Currently, Leah is championing a better Way of Work for ~55K Microsoft Azure colleagues. Leah is honored and thrilled to use her experience to serve our members and Fraternity at an international and strategic level.
Leah joined Tri Delta as a charter member of Canada Delta Chapter at the University of Ottawa where she graduated with a Bachelor of Arts in history and political science. Leah is a global adventurer. She hails from Alberta, spent 11 formative years in Dubai, finished her education in Ottawa, Canada and moved to the USA when Microsoft acquired the startup she worked at. Leah is a proud dual citizen of Canada and the USA. She lives in Scottsdale, Arizona, with her soulmate, Thomas. Leah is a bonus Mom to their two children: Briar and Bennett, as well as their pup, Prinz. When Leah is not working or volunteering, you will find her spending quality time with loved ones, training for endurance events, or exploring new places and cultures.
Director Lenora Oeters, Cincinnati
Lenora has served Tri Delta in many capacities as an Executive Board Director, Streamlined Governance Steering Committee member, chair of the Inclusion Task Force, Atlanta Alumnae Chapter president, Extension Team member, Young Alumnae Focus Group member, Atlanta Alumnae Chapter vice president of philanthropy, recruitment specialist and chapter development consultant.
Professionally, Lenora serves as an Vice President, Ohio/West Virginia for the American Cancer Society (ACS). In this role she oversees a multi-market team focused on raising funds through events, corporate relationships and individual/planned giving for the ACS. In her professional role, Lenora has the opportunity to work with of high-level volunteer leaders across Ohio, West Virginia and Northern Kentucky, allowing her to better understand the staff/volunteer governance partnership. Additionally, she understands key stakeholders and donors—their perspectives, their insights and their connection to the ACS allowing her to translate these skills and best practices in donor and relationship management for Tri Delta.
It is through Board service in Tri Delta that Lenora is able to make an individual and collective impact on the current and future lives of Tri Delta members.
Lenora earned a bachelor of arts degree in communications and public relations from the University of Cincinnati. Lenora was named the Tri Delta Atlanta Alumnae Chapter's Woman of the Year in 2015 and was recognized as a member of Atlanta's 30 Under 30 community in 2017.
Lenora looks forward to the way that Tri Delta and our members will continue to challenge and change the status quo. Whether on campus, within fraternity and sorority life or in the world, she believes that Tri Delta members are agents of change, continuing to create a better and more just world—one day and one action at a time. She is excited to have the opportunity to help create a better world in our own Tri Delta brave, bold and kind way!
Personally, Lenora enjoys spending time with her wife, Stephanie, daughter, Lilly Kate, three rescue dogs and a rescue cat, training for triathlons, volunteering and traveling.
Director Tycely Williams, Wake Forest
Tycely chairs the Greek Life Committee of the Wake Forest University Alumni Council and is the past co-chair of philanthropy in the Washington, D.C. Metro Alumnae Chapter of Tri Delta. Tycely chairs the boards of The Nonprofit Alliance Foundation, YWCA National Capital Area, Rising Media Stars and Monument Academy Public Charter School, while serving on the boards of the Association of Fundraising Professionals, Leadership Greater Washington, the Blackbaud Giving Fund and the Institute for Responsible Citizenship.
Professionally, Tycely is the Chief Development Officer for the Bipartisan Policy Center, a Washington, D.C.-based think tank that actively fosters bipartisanship by combining the best ideas from both parties to promote health, security and opportunity for all Americans. An experienced servant leader and Certified Fundraising Executive (CFRE), she has encouraged investments of more than $130 million toward social good, while successfully leading teams that have raised and managed more than $1 billion in assets. As Tycely spends her work day building trusted relationships with people, she is able to contribute her ability to center, value, listen and learn from our sisters, stakeholders and partners.
Tycely volunteers for Tri Delta to continue to witness our collective positive return—supporting sisters in all stages of life, strengthening St. Jude and Tri Delta Place and sustaining values that improve the lives of women while being brave, bold and kind alike to all.
She is enjoying the return to face-to-face engagement and connectivity after being detached, discouraged and so many instances distanced. She looks forward to sisters across college campuses and in local communities once again feeling the divine power of Delta Love!
Tycely holds an executive masters in leadership from the McDonough School of Business at Georgetown University and is a cum laude graduate of Wake Forest University with a B.A. in communications with distinguished departmental honors and a minor in journalism.
Director Susan Woda, Maryland
Susan joined EAB Global (formerly known as the Education Advisory Board) in 2011, drawing on her 15+ years on campus, her experience as Senior Director of Operations for Tri Delta and the Center for Living, Learning and Leading, and a term on the University System of Maryland's Board of Regents. Today, she partners with the faculty, executive leadership teams and Boards of colleges and universities across the country in the areas of institutional strategy, academic planning, program development, public policy, resource allocation, advancement and strategic finance. Susan's professional and board service are intertwined as she spends most days working with college and university executive teams to identify and execute on their most critical strategic priorities.
Her education includes a degree in finance and human resource management from the University of Maryland, College Park, and a master's degree in public policy from the University of Texas at Austin.Her doctoral coursework and research in education policy and leadership focused specifically on higher education policy, leadership and finance.
Susan has always been incredibly passionate about supporting women to pursue their dreams and is a firm believer that both education and strong social support systems are critical to that success.In Susan's "other life" she continues her work with ArtSupport, a nationwide arts education advocacy group, and coaching young women on interview and public speaking skills as part of their community service efforts. As a student of higher education and public policy, Susan is energized by the endless possibilities ahead for Tri Delta as we near our 135th anniversary. She's incredibly humbled by the opportunity to contribute to Tri Delta's story in preparation for the next 135.
Any and all other free minutes are spent training her cockapoo, Cooper, and cheering on her nephew and niece at baseball games and team ice skating events, respectively.
Foundation Board of Trustees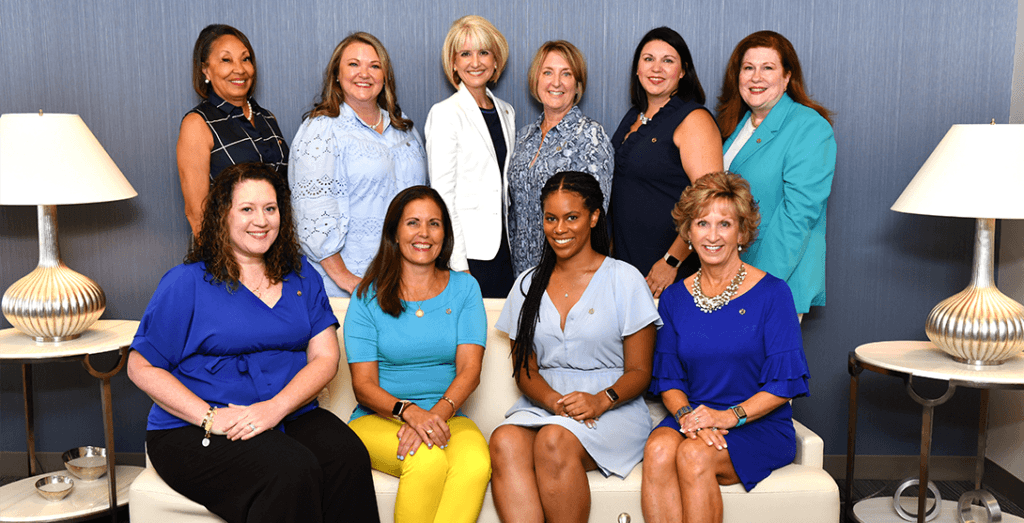 Tri Delta's Foundation is led by a dedicated Board of Trustees who serve the ever-changing needs of the Fraternity by fulfilling Tri Delta's Purpose to "assist its members in every possible way." Learn more about the work of Tri Delta's Foundation here.
Tri Delta Housing Board of Directors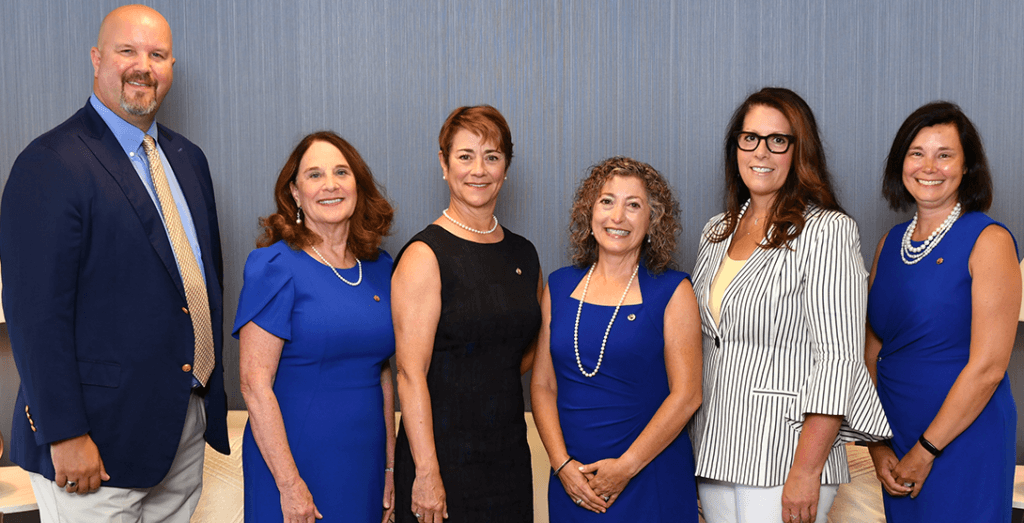 The Tri Delta Housing Board of Directors are industry leaders in the collegiate housing realm and are responsible for mapping strategic direction and implementing action for Tri Delta's properties across North America. Learn more about the support Tri Delta Housing provides to our members here.
Tri Delta's boards are nominated by the Leadership Cultivation and Selection Committee (LCSC), and the Executive Board is ratified by the Convention body. Learn more about the LCSC and its process here.
Appointed Committees
To support the vision of the Executive Board, a variety of appointed committees function to guide decision-making for specific operational segments within the organization.
Standing Committees
Standing committees are appointed as per the Fraternity Bylaws. The Leadership Cultivation and Selection Committee (LCSC) is elected by the Convention body. The additional standing committees are appointed by the Executive Board and include the Bylaws Committee, Extension Committee, Ritual Committee and the Fraternity Membership Status Committee.
Board Appointed Committees, Task Forces and Advisory Panels
These committees and advisory panels are appointed by the Executive Board each biennium to support the Executive Board's strategic priorities. These volunteers delve into key focus areas for research and recommendations.
Regional Volunteer Teams
To support the robust regional volunteer structure, Tri Delta's Boards appoint Volunteer Coordinators (VCs) to guide the efforts of the Collegiate, Alumnae, Panhellenic and Housing volunteer teams.
The VCs oversee their respective teams across Tri Delta's regions, assist with volunteer appointments, on- and off-boarding, support, and recognition of opportunities and challenges within their scope of responsibility to ensure continual organizational growth and success.
Pictured above, left to right: Collegiate Volunteer Coordinator Ashley Westerberg Salzwedel, Washington State, Alumnae Volunteer Coordinator Laura Tarne, Auburn, Panhellenic Volunteer Coordinator Sarah Coons Lindsay, Miami/Ohio, Housing Volunteer Coordinator Judy Barth, Cornell
Interested to learn more about our volunteers? Review the collegiate, alumnae, housing, foundation and Panhellenic regional volunteer charts.
To view maps of collegiate and alumnae regions, visit the Resource Library.
Other Appointments
Rounding out Tri Delta's volunteer force are a variety of additional volunteer positions that support the organization in different ways. These include, but are not limited to, conference facilitators, collegiate and alumnae program facilitators and volunteers fulfilling special projects and committees.